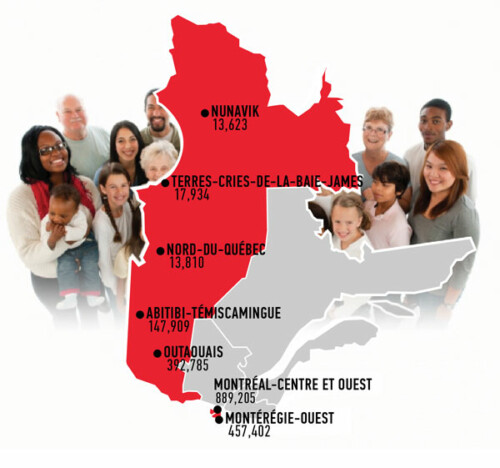 As part of its mission to provide improved healthcare services to communities, the Quebec Ministry of Health and Social Services created the Réseaux Universitaires Intégrés de Santé et de Services Sociaux (RUISSS)  in 2003. A portion of Quebec's territory was assigned to each of the province's four medical faculties (McGill University, Université de Montréal, Université de Sherbrooke and Université Laval), so that they may help bring specialized care, medical education and medical research to the province's many regions. 
RUISSS McGill covers a large and varied territory of Quebec, stretching from Montreal to Nunavik in the far north. Approximately 1.9 million people from different communities and all walks of life are served by RUISSS McGill. Health determinants — such as revenue, education, social environment and social support, available health services and culture — vary according to each region. Additionally, the shortage of healthcare professionals is a distinct problem requiring its own solutions. 
RUISSS McGill's territorial responsibility includes Nunavik, the Cree Territory, Nord du Québec, Abitibi-Temiscamingue, Outaouais, Montérégie west, West-Central Montreal and the West Island of Montreal. These seven regions cover 63% of the Quebec landmass and include: one University Health Centre, two CIUSSSs, three CISSSs and three other health centres. As part of the RUISSS McGill mandate, in 2020 the Faculty of Medicine and Health Sciences opened Campus Outaouais, where it now trains physicians in French, in addition to those training in Montreal. 
Since RUISSS McGill was established, its members have worked to offer new opportunities for learning, to promote residents' training in the regions, to increase skills in telehealth and to create clinical coordination. This allows patients to be treated as close to their homes as possible within the constraints of available resources and expertise. 
RUISSS McGill's goals remain unchanged: to be a role model for the continuum of care, research, teaching and evaluation of technologies, and to help improve the health and well-being of Quebecers. 
Related :
The creation of the CIUSSSs: a new partnership for care, training and research