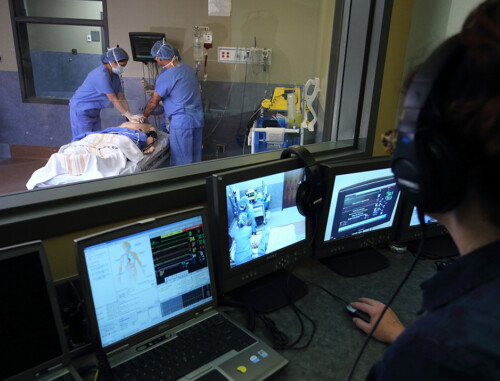 On September 14, 2006, McGill's Medical Simulation Centre – the first of its kind in Canada – opened its doors. Using fake patients in very real situations, the Steinberg Centre for Simulation and Interactive Learning (as it's been called since 2015) has helped thousands of health sciences learners test their mettle in a setting where they can 'do no harm.'  
Taking its cue from flight simulation tools used to train pilots, medical simulation really took off in the 1990s. Advances in imaging and computing led to rapid development of new medical simulation tools, notably the US National Library of Medicine's open-source Visible Human Project, a full data set of  male and female cadavers. 
With medical simulation, the Faculty of Medicine and Health Sciences saw an opportunity to improve how medical education was delivered and Arnold Steinberg was keen to help make it happen. The Steinbergs have long been major supporters of the Centre that bears their name. The late Mr. Steinberg, former Chancellor of McGill, businessman and philanthropist, was a driving force behind its creation in 2006. 
Buoyed by its success – data overwhelmingly demonstrates that the kinds of learning opportunities the Centre offers, from team training to central lines to laparoscopic surgery, can vastly reduce errors and improve outcomes – the decision was made to expand and to ramp up the Centre's focus on research and innovation, which was completed in 2016. 
Back to 200 Years, 200 Stories