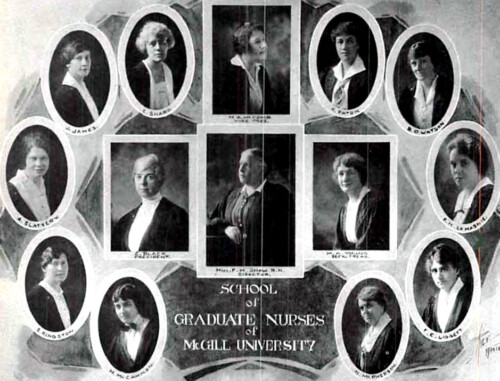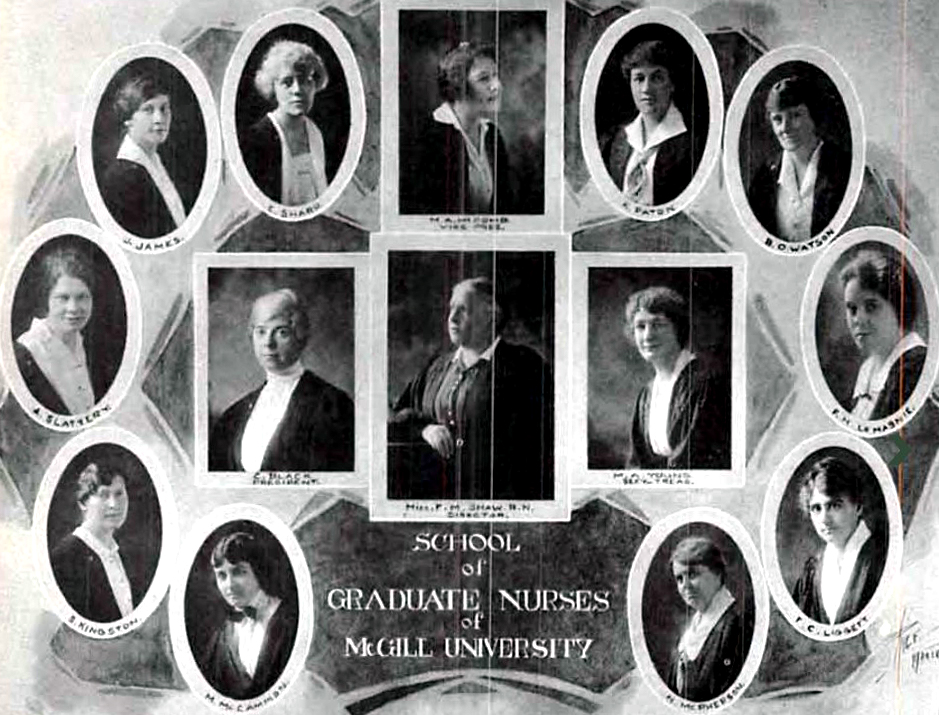 In 1920, McGill's School for Graduate Nurses, the second university-based nursing program in Canada (UBC opened its school in 1919), welcomed its first students. The School opened in the shadow of World War I and the 1918 influenza pandemic, devastating events that had a catalyzing effect on the nursing profession. With the changes taking place in public health and rapid advances in medical care, nursing leaders knew that nursing education had to be modernized to meet these new demands.   
Hospital schools 
Although nurses had always had training of some kind, often as part of religious orders that ran hospitals, the first formalized Canadian nursing schools appeared in the 1870s. These were modelled on nursing education pioneer Florence Nightingale's approach. Nightingale's method emphasized hands-on, in-hospital training overseen by ward sisters and augmented by medical courses taught by physicians. Meticulous note taking, training in medical ethics, and decent conditions, including meals and lodgings, for the students, were other important elements. Quebec's first such school, at the Montreal General Hospital, opened its doors in 1890. One of its trainees, Flora Shaw, would go on to become its first full-time nursing teacher and later the founding director of the School for Graduate Nurses.  
Pushing ahead 
By the 1910s, it became clear to many in the profession that there was a need for university-based training, at least for those who would go on to train the nursing students in the hospital schools. "Nurses knew better than to promote university education for all nurses at this time," writes Canadian nursing historian Lynn Kirkwood.* "Instead they chose to 'tread softly' and be satisfied with university education for a small group of nurses, ….creating a two-tiered system of entry into the profession and two cultures for nursing — the professional culture, rooted in education and science, and a craft culture, rooted in domestic skills."  
First, they had to create the programs. "Up until the year 1919, Canadian nurses wishing to further their education had to go to the United States to do so," notes Barbara Tunis in her history of nursing at McGill.** "Many of these did not return to Canada." She continues: 
In the wake of the United States which had established its first basic nursing programme affiliated with a university in 1909, and by 1918 had twenty-one schools affiliated with universities, nurse educators in Canada began to seek admission for nurses in Canadian institutions of higher learning. 
Among them were Grace Fairley and Mabel Hersey, Montreal nursing leaders who won the support of McGill's Dean of Medicine, Dr. Herbert Birkett. Dr. Birkett had mounted the 3rd Canadian General Hospital (McGill) in France during World War I and commanded a hand-picked group of top medical personnel from McGill-affiliated hospitals there, including nursing matrons and sisters. 
Rapid growth 
The School's first cohort was small, made up of 15 students, six of them in the Public Health Nursing stream and nine in Teaching and Supervising in Schools of Nursing. The majority of nurses continued to train in the hospital schools. From 1920 to 1957, the School offered certificate and degree programs developed for nurses holding diplomas from the hospital schools. In 1941 it became part of the Faculty of Medicine and, in 1944, a two-year Bachelor of Nursing for RNs was added. In 1957, the Bachelor of Science in Nursing (BSc (N)) program was introduced. Shortly after, in 1961 the innovative MSc (Applied) in Nursing was added.  
Research and innovation 
The School's research activities also expanded during this epoch, and in 1969 Nursing Papers, Canada's first nursing research journal (now the Canadian Journal of Nursing Research) was founded at McGill. As universal health care was ushered in, McGill nursing leaders saw an opportunity to rethink the role of the nurse. Out of these reflections emerged an innovative patient-centred approach to nursing that became known as the McGill Model of Nursing. Now known as Strengths-based Nursing, the model has been adopted all over Canada and the world. 
CEGEP system brings changes 
The advent of the CEGEP system brought several changes to nursing programs in Quebec. In 1972, the province's hospital-based nursing programs were closed and McGill's BSc (N) was reduced to a three–year program, from five. In 1974 the MSc(A)-Direct Entry, a program for non-nurses, was introduced. 
In the midst of all these changes, the School's name changed, too, becoming the School of Nursing in 1973. The School introduced Canada's first PhD program in nursing in 1986, with the first doctorate in nursing awarded (at McGill and in Canada) in 1990. In 2012, the School of Nursing was formally renamed the Ingram School of Nursing after donors Richard and Satoko Ingram.  
In 2019, the School launched Quebec's first online Bachelor of Nursing program, offered in French and English. The following year, the School celebrated its Centennial. The year 2020 also marked the 200th year of Florence Nightingale's birth and  was declared the International Year of the Nurse and the Midwife  by the World Health Assembly.  
Related:  
* Kirkwood, Lynn, "Enough but Not Too Much: Nursing Education in English Language Canada (1874-2000)," in On all frontiers : four centuries of Canadian nursing, edited by Christina Bates, Dianne Dodd, Nicole Rousseau, Ottawa University Press, 2005. 
**Barbara L. Tunis, In Caps and Gowns: The History of the School for Graduate Nurses, 1920-1964, McGill University Press, 1966.  
Ingram School of Nursing Centennial Timeline: learn about the School's many achievements from 1920 to the present day 
Back to 200 Years, 200 Stories