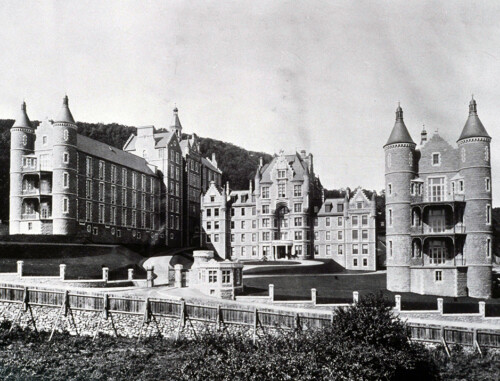 The imposing Royal Victoria Hospital, built on the southern slope of Mount Royal on land donated in 1887 by rail barons Lords Strathcona and Mount Stephen, opened its doors in 1893. The new hospital quickly became a centre for medical innovation – as well as a tourist attraction: 
… the Royal Victoria was an immediate and lasting success as both monument and landmark. In addition to its highly visible location, this success derived from the building's sheer scale, its picturesque configuration, its association (through the pavilion-plan typology) with the extent of the British Empire, and its romantic, Scottish baronial detailing. – from Annmarie Adams' Medicine by Design: The Architect and the Modern Hospital, 1893-1943* 
A new era 
In 1997, the Royal Vic merged with its long-time rival, the Montreal General Hospital, as well as the Montreal Neurological Institute, the Chest Institute and the Montreal Children's Hospital, to form the McGill University Health Centre (MUHC). In 2015, the famed Royal Vic site was shuttered and the hospital moved to its new site at the Glen yard with the Montreal Children's Hospital and the Montreal Chest Institute. The Glen site is also home to the Research Institute of the MUHC and the Cedars Cancer Centre, as well as Shriners Hospitals for Children — Canada. 
Related:  
 *University of Minnesota Press, 2008, Pages 5-6. Professor Adams is Chair of the Department of Social Sciences of Medicine in the Faculty of Medicine and Health Sciences, McGill University. 
Royal Victoria Hospital (MUHC)
Save the Vic: Scholar argues against razing RVH buildings