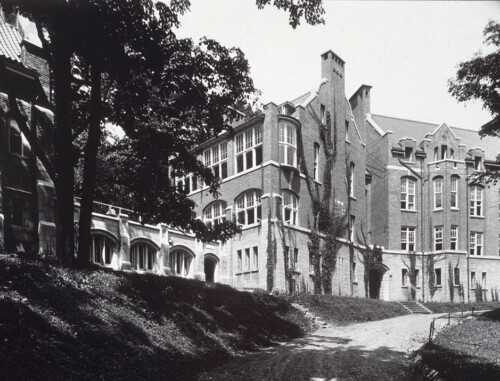 The Children's Memorial Hospital (now the Montreal Children's Hospital) opened its doors in 1904 on Guy Street. The first paediatric hospital in Montreal, it moved to brand new buildings on Cedar Avenue in 1909. The leafy setting near Mount Royal was regarded as the perfect spot for its young patients, many of whom were suffering from respiratory diseases like tuberculosis, to recuperate.  
"A major difference between the Royal Victoria Hospital and the Children's Memorial Hospital was in the significance accorded to exterior spaces. Whereas the immediate surroundings of the Royal Victoria Hospital had served only as a picturesque framework to the hospital itself, exterior spaces at the Children's Memorial actually functioned as outdoor wards for patients. Photos show children dressed for both summer and winter weather outside in beds and nurses taking the temperature of patients in the gardens…. [T]he images underline how important the exterior, forested spaces were to the workings of the Children's Memorial Hospital in this period, perhaps a consequence of the hospital's continuing struggle against tuberculosis." (Medicine by Design: The Architect and the Modern Hospital, 1893–1943, by Annmarie Adams, p. 61)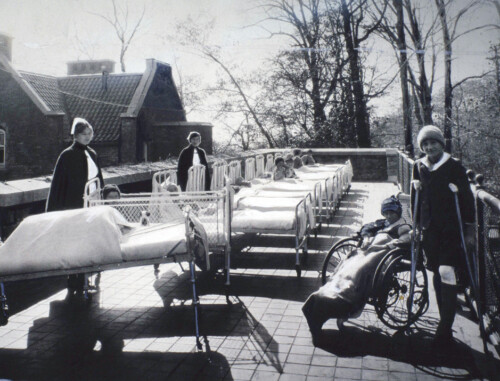 The hospital became officially affiliated with McGill in 1920, and its innovations grew steadily. It was the home of many firsts in paediatric care in Canada including, in 1933, the establishment of the first hospital-based speech therapy clinic ; in 1949, the first division of medical genetics; and the first child psychiatry department in 1950, among many others. 
In 1956, the hospital – renamed the Montreal Children's Hospital – moved to Tupper Street, into the former buildings of the Western Hospital (a branch of the Montreal General Hospital), where it remained until its move to its new home, at the McGill University Health Centre Glen site, in 2015. 
Related: 
Montreal Children's Hospital History and Milestones