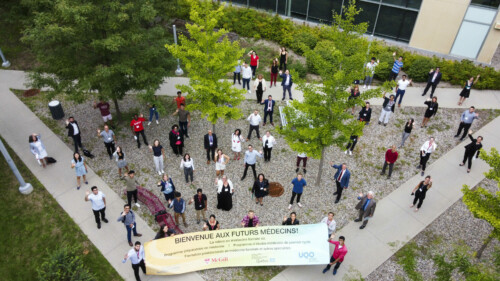 In 1988, to address the chronic doctor shortage in the Outaouais region, McGill's Faculty of Medicine (now the Faculty of Medicine and Health Sciences) created a family medicine teaching unit in Gatineau.
It began by sending two medical residents to complete their last six months of family medicine training there. When, as hoped, those doctors settled in the area after finishing their training, the Faculty decided to send more medical residents to Gatineau: first four residents per year, then six, eight, 12, 18 and now up to 20 per year.
This increase coincided with a requirement from the Quebec government that the province's four medical faculties should each create local sites in different parts of the province to train physicians in the hopes of improving healthcare in Quebec's regions.
The Université de Montréal opened a regional site in Trois-Rivières; the Université de Sherbrooke focused on Chicoutimi and Moncton, and Université Laval will soon go to Lévis and Rimouski. McGill continued to build on the work it had begun in Outaouais. In 2010, a new program welcomed McGill medical students in the third year of their studies. Five years later, a clinical plan was developed that would see the entire McGill medical program offered to students in the region.
In August 2020, the new Campus Outaouais welcomed its first cohort – 24 first-year McGill medical students and, in collaboration with the Faculty of Science and the Université du Quebec en Outaouais, 16 students in a specially designed pre-med preparatory program. By 2024, there will be 96 McGill students enrolled in the first four years of the medical program, some 20 students in the preparatory program, and 50 residents and interns. In all, close to 170 McGill students will be living in the region.
"The population of the Outaouais region has been asking for medical training to be available here for many years," says Dr. Gilles Brousseau, Associate Dean and Director of Campus Outaouais and a local champion of the project for several decades. "It's something both the community and the University wanted."
The Campus Outaouais initiative has resulted in a couple of significant milestones for McGill and the Faculty. With the addition of the students at the new campus, the overall number of first-year medical students at McGill has risen from 178 to 202, an increase of almost 15%.
And for the first time in McGill's long history, the teaching program at one of its campuses is taking place exclusively in French.
A version of this story, by Jean-Benoît Nadeau, BA'92 (translated by Julie Barlow, BA'91), first appeared in McGill News.