A turning point for the Faculty
Were it not for the overwhelming support of students and staff, the Faculty of Dentistry would not exist today.
On July 17, 1991, McGill suddenly announced that it would be closing down the faculty of dentistry. Principal David Johnston told all teaching staff that dentistry did not fit with McGill's long-term plans of becoming a major research institution with a high proportion of graduate students. He said McGill had decided the faculty should stop accepting new students as it would close its doors in 1996 to help cut the university's $79.5 million debt. Despite the fact that McGill had been producing some of the best clinically trained dentists in the country, Mr. Johnston said dentistry was just too expensive. In his opinion, dentistry professors were not doing enough research, the faculty was not offering enough graduate programs and the facilities of the school were inadequate. He also noted that it cost the university more to teach dental students than any other students on campus.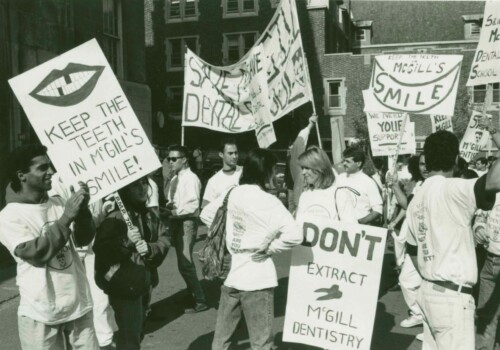 McGill dentists took the principal's words as a challenge. To save the school, an ambitious Renewal Campaign was created. Staff, students, alumni and their patients, as well as a number of friends of the faculty (both from within and outside the university), rallied to prevent the closure of the school. By September of that year, McGill came back with a proposal: the faculty could remain open if it met several conditions within one year. Among other criteria, the proportion of research-oriented teaching staff had to expand and external research funding had to be raised. The dental clinic at the Montreal General Hospital would have to become self-financing and find the $1.6 million necessary to upgrade equipment. By the one year deadline, all conditions had been met and the Renewal Campaign had raised $1.9 million in private funds! This campaign didn't just save the faculty. It changed it. Dentistry research started to generate as much research funding per professor for McGill as medicine. In every case, the faculty's research is linked to other faculties and departments in the greater McGill community.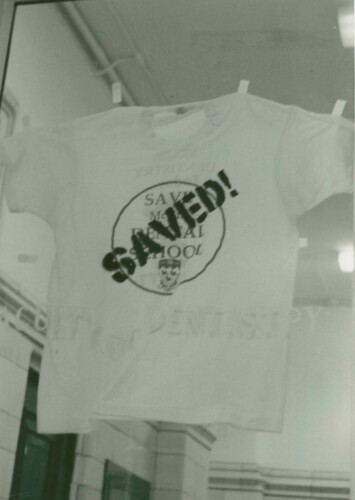 "We're small, with some specific areas that our research is focused on," dean James Lund said in an interview. "But we're among the best in the world at what we do." He added that the faculty's challenge now is to find space to grow and ways of "increasing our resources so that can happen."