A landmark award to recognize our vision
The Faculty of Dentistry received the prestigious Gies Award for its steadfast innovation and vision in community service.
In 2018, the Faculty received the Gies Award for Vision, which recognizes institutions articulating the pursuit of contemporary ideas or a set of ideals, perspectives or solutions to create broader meaning for the dental profession and effectively bridge the present with the future of oral health. With its world-leading service to the community program and outreach activities, the McGill Faculty of Dentistry maintains an ambitious vision for the future of dental science.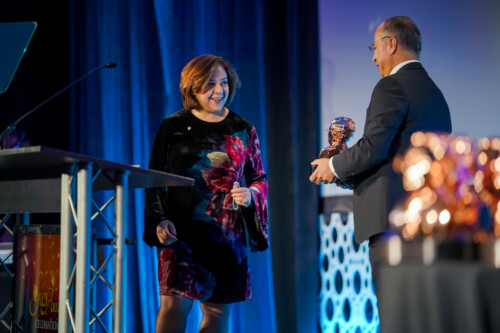 Specifically, the Faculty is being celebrated for its Service to the Community Program, which provides free dental care for hundreds of Montreal's most vulnerable people through a series of free clinics. One of the unique features the Faculty's outreach work is that much of the clinical work is done by undergraduate or graduate students under the supervision of faculty members.
"Being recognized by the ADEA reinforces the Faculty's dedication to encourage its undergraduate and postgraduate students to learn about caring for priority populations through means of active learning, research, community service and fundraising activities," said Elham Emami, Dean of the Faculty of Dentistry. "Our Service to the Community Program wouldn't be possible without the contribution of our wonderful students, staff and faculty members; our community partners; and, of course, our donors who support this work and make it all possible."
According to a recent op-ed in the Montreal Gazette, millions of Canadians, and approximately 25 per cent of Quebecois, are unable to receive the dental treatment they need, often because they simply can't afford it. This gap in care can lead to serious oral health problems, which, as anyone who has had even a simple toothache will tell you, can profoundly impact the quality of a person's life.