McGill School of Environment established
The McGill School of Environment is established in 1998 as a joint initiative between the Faculties of Agricultural and Environmental Sciences, Arts and Science. The new School aims to break down disciplinary silos across the university and equip students with a comprehensive and strategic interdisciplinary perspective on the environment.  
Please see Bieler School of Environment for a more in-depth look at the MSE.
Brace Centre for Water Resources Management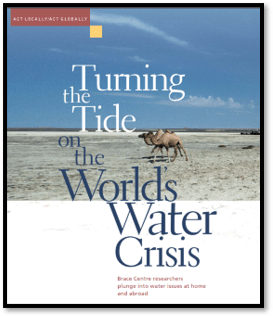 In 1999 the Centre for Drainage Studies merged with the Brace Research Institute to form the Brace Centre for Water Resources Management, an interdisciplinary research centre spanning several faculties that provides expertise in the technical, social, economic, legal and environmental aspects of water management in Canada and around the world.   
Brace Researchers have worked on water conservation and irrigation projects in Egypt, former Soviet Central Asian republics, the Caribbean, and Africa.  Closer to home, they have worked with Quebec agricultural producers and governments in Quebec, New York, and Vermont to protect the health of Lake Champlain as well as with producers in Southern Ontario to adapt water use plans for climate change. Today's researchers undertake a broad range of research projects from removing nanoplastics from wastewater to using municipal wastewater as a potential predictor of future COVID-19 outbreaks in urban settings.
Building agricultural capacity in Quebec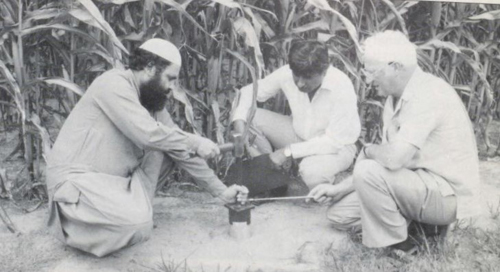 In the early 1960s, Agricultural Engineering Professor Robert Broughton, PhD'72, started conducting research on soil and water problems and land improvement – carrying out field investigations, designing and implementing irrigation and drainage projects around the world.
However, Broughton's work with colleagues, students, farmers, researchers, industry, and government officials to improve the productivity of Quebec farmlands deserves particular attention.
In the 1960s, only about three percent of the land in Quebec was suitable for cultivation. The Province's population and need for food outstripped the yield from Quebec farms. More than half of Quebec's most fertile lands required improved water management – either better drainage or supplemental irrigation to maximize productivity and yield.
Over more than four decades, Broughton's work would revolutionize soil drainage in Quebec, leading to increased food production and capacity in Quebec's irrigation and drainage industry. This work also led to improvements in the Province's municipal water systems and its recreational facilities, including sports fields and golf courses.
Today, the Brace Centre for Water Resources Management continues to build on its foundation to protect the world's finite water resources.
Milestone
1998: With the generous support of the Macdonald Stewart Foundation, the Faculty secures generators, which are transported to dairy farms in the province so that farm operations can continue during the 1998 ice-storm