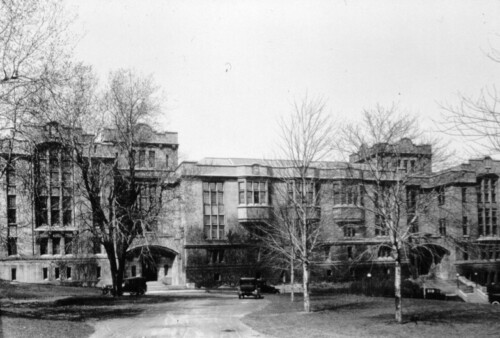 In 1872, the Faculty of Medicine resided in the Old Medical Building, located where the James Administration Building now stands. 
After a devastating fire destroyed most the building in 1907, Lord Strathcona, also known as Sir Donald Smith, purchased land and funded the construction of the Strathcona Building in 1908. 
The four-storey edifice contained two flanking wings connected by corridors, as well as a central gallery that displayed human evolution artifacts. On the third floor, the student reading room remains preserved with stained-glass skylights, leather upholstered oak doors, delicate chandeliers, long oak tables and small green reading lamps. 
In 1919, Percy Erskine Nobbs, former Director of McGill's School of Architecture, was commissioned to create stained-glass windows to honour the members of the Faculty of Medicine who fought in World War I, which still illuminate the second-floor hall of the building. In 1921, Nobbs was also asked to design what would become the Osler Library, located in the Strathcona building, to accommodate the extensive library of medical texts donated by Sir William Osler. The Osler Library was moved to the McIntyre Medical Sciences Building in 1965.