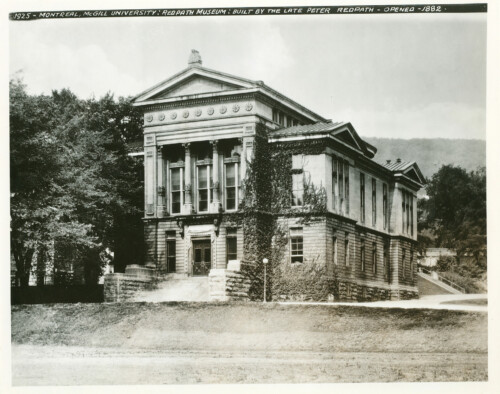 This iconic building of Greek Revival Architecture was designed in the Classical style and, like all of its 19th- and early 20th-century neighbours, was clad with Montreal limestone. 
It was commissioned in 1880 by Peter Redpath to commemorate the 25th anniversary of William Dawson's appointment as Principal. Opened in 1882, it is thought to be Canada's first building erected for museological purposes. 
The galleries in the main exhibition room and mezzanine of the Redpath Museum have been elegantly restored to house a collection of some three million objects spanning paleontology, zoology, mineralogy and ethnology. The historic auditorium in the rounded apse at the north end of the main floor features more than a century of graffiti on the wood columns.