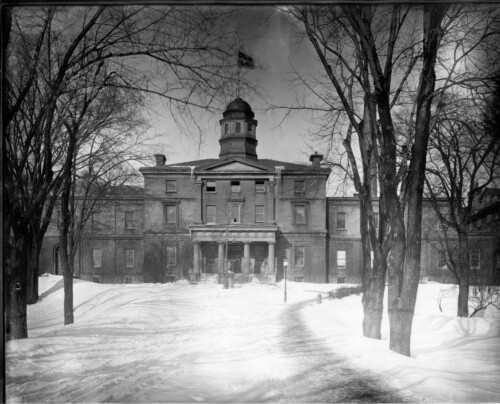 The elegant and Classical-style composition of McGill's iconic Arts Building is the result of 80 years of construction, renovation and additions. The central pavilion (the original Arts Building) and the east pavilion (Dawson Hall) were completed in 1843, making it the University's oldest structure.
The west pavilion (Molson Hall) and the single-storey links between the three blocks were completed in 1860, while the second floor was finished in the 1880s. It wasn't until 1925 that architects Fetherstonhaugh and McDougall replaced the old wooden porch with the Doric limestone portico and completed renovations to the main lobby that became the grand hall we know today.
In 2019, John and Marcy McCall MacBain of the McCall MacBain Foundation generously made the largest single gift to a Canadian university at the time,   leading the Arts Building to be renamed the McCall MacBain Arts Building. John McCall MacBain, BA'80, LLD'14, once served as president of the Student Society, and will become the 20th chancellor of McGill University in July 2021.