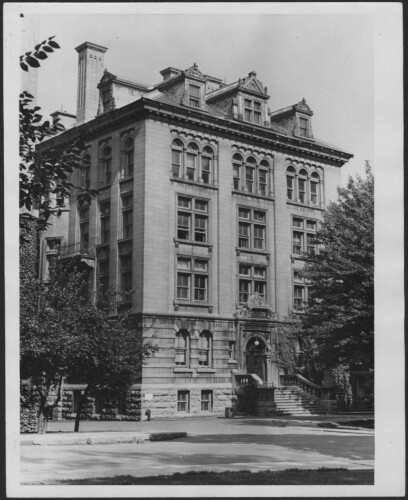 The Macdonald Chemistry Building, renamed the Macdonald-Harrington Building after its first chemistry professor, Bernard Harrington, was built between 1896 and 1897, and was one of many donations made by Sir William Macdonald to the University. Sir Andrew Taylor was commissioned for the project along with his partners Morley Hogle and Huntley Davis. 
 The structure has a symmetrical, classical Italian-style facade, the exterior being of Montreal limestone to match the rest of the campus. The ground floor is rusticated, but above this point, cut stone is used. The building is constructed of steel, brick and wood on the interior, with most of the ornament of the building concentrated around the façade. Other intricate details can be found around the windows and in the doorways. Originally, the Macdonald Chemistry Building was also home to a library featuring various trimmings and details. 
In 1957, a two-storey extension was constructed on the north side of the building to provide more lab space for the expanding department. In 1987, the entire structure underwent major renovations to prepare the edifice for its new inhabitants: the Schools of Architecture and Urban Planning. It was during this renovation that the Renaissance, domestic stained-glass panels, discovered in the Hosmer House, were installed in the glass walls of the reception offices. Today, part of the Mining and Metallurgy Department remains in the basement, but the rest of the building houses the Schools of Architecture and Urban Planning.