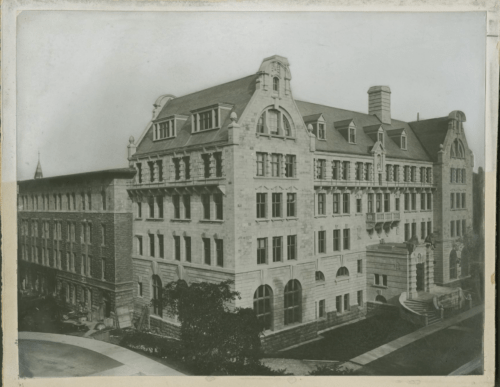 In 1893, the Applied Science Faculty (now Engineering) was relocated to a new home consisting of two structures: one donated by Thomas Workman, and one donated by Sir William Macdonald, one of McGill's most generous benefactors. 
Architect Andrew Taylor's imposing five-storey Macdonald Engineering Building featured a symmetrical, Italian Renaissance façade, and was made of Montreal limestone on the exterior. The interior was lined with brick and purely functional, and the ground floor featured a foundry, a forge, a steam and thermodynamics lab, a dynamo and engine room, and a hydraulics lab. The first floor housed a pattern shop, a wood shop, electrical equipment and some offices. Most of the offices and classrooms were located on the second floor. The third floor boasted a library as well as an architecture and apparatus museum, and the fourth floor served as a studio and drafting room. Unfortunately, the building was gutted by a fire on April 5, 1907. 
Immediately after the fire, Sir William Macdonald stepped forward once again to offer a new Engineering Building to the University. The present Engineering Building was erected on the foundations of Taylor's project, and was designed in 1908 by Percy Erskine Nobbs, the Director of the School of Architecture at the time. Following the fate of Taylor's building, the University requested that this structure be as fire-proof as possible. So Nobbs, like Taylor, had to put function ahead of ornament. The edifice still stands to this day and is used by the Faculty of Engineering. It has a layout and plan similar to that of Taylor's. And while it is highly practical, it still features some ornament, such as the carving on the south wall of a phoenix rising from ashes—a reminder of the fate of Taylor's building and a symbol of rebirth.