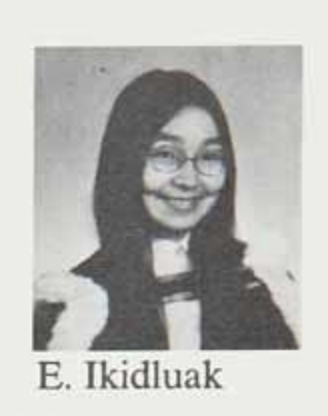 Born on Cape Smith Island in the Northwest Territories, Evie Ikidluak was diagnosed with a serious lifelong illness at the age of five. Despite her health challenges, she excelled academically, earning a spot at McGill University.
After graduating with a Bachelor of Education in 1971, specializing at the elementary level, Ikidluak focused her career on a cause close to her heart: education in the North. She went on to teach at the elementary level in both Puvirnituq and Kuujjuarapik, while also lobbying for serviced housing for Indigenous employees.
Ikidluak played an active role in upgrading the teacher training programs at Manitou College and McGill University, and helped establish the McGill Intertribal Council. She eventually joined the Kativik School Board – first as a student counsellor, then as coordinator of a variety of culture and Inuktitut programs. Sadly, Ikidluak passed away on October 31, 1982, only a few months after becoming Director of Educational Services for the Kativik School Board.