The School of Continuing Studies: a new era
In 2010, the CCE offered its first forms of financial aid in the forms of scholarships and bursaries.
In May 2011, the CCE officially became the School of Continuing Studies (SCS). In the spirit of the continual growth of the Centre, it had become much more than a centre – it had become its own school. The English and French Studies departments, once separate, became the Language and Intercultural Communication department.

---
Career and writing services expand;
Syrian Refugee program launches
In an effort to expand career advising services, a new unit, Career Advising and Transition Services (CATS), was launched under the leadership of Dean Judith Potter.
In 2011 through 2013, The McGill Writing Centre (MWC) joined SCS alongside Personal and Cultural Enrichment (PACE, which is now known as PRIZMA).
The Syrian Refugee program was developed and launched in the 2016–17 academic year. Within just a few years, students have received scholarships, graduated and gone on to give back to the School.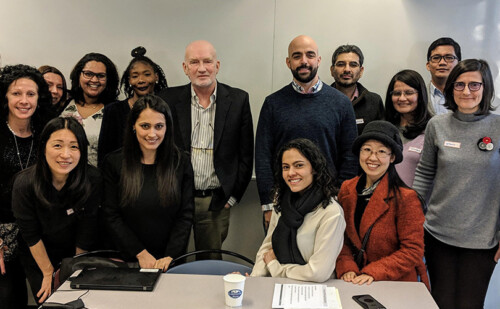 ---
A new dean steps in
In 2018, Professor Carola Weil joined the School of Continuing Studies as Dean.