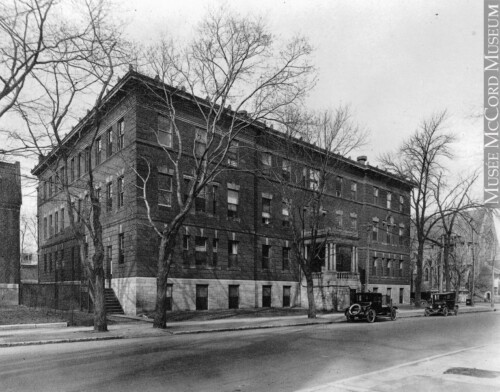 Opened in 1843, the University Lying-in Hospital (lying-in refers to the confinement before and after giving birth) offered poor, often unmarried or immigrant women, a safe place to give birth. At the time, most women delivered at home, attended to by a midwife or physician; the University Lying-in Hospital's clientele could afford neither.  
The only other English hospital in Montreal at the time, the Montreal General Hospital, did not admit obstetrics patients except for medical emergencies.  
Although the University Lying-in Hospital was established by McGill's Faculty of Medicine (now the Faculty of Medicine and Health Sciences), hence its name, as a teaching hospital, faculty members rarely saw patients or delivered babies there in its early days. It operated largely as a charitable organization, run by middle–class women volunteers and staffed by midwives, nurses and servants, until the medical establishment began to take a more active role in obstetrics in the late nineteenth century. Medical students from McGill were, however, able to witness childbirth and sometimes even deliver under the guidance of a midwife. As such, it was one of the first obstetrics teaching hospitals in North America (medical students had only had lectures in childbirth before). However, obstetrics remained a low priority in medical education; only after 1870 were McGill medical students required to prove they had experience in obstetrics in order to graduate. 
In 1887, the hospital changed its name to the Montreal Maternity Hospital. At around the same time, attending physicians and residents replaced midwives as the hospital's primary clinicians. Medical and surgical interventions during childbirth increased too, as did the use of anaesthesia during labour, as obstetrical specialization gained ground. Better hygiene led to a reduction in infections, which in turn led to improved infant and mother mortality rates. All of this brought about a change in the hospital's clientele from primarily non-paying poor mothers to more and more paying middle–class women seeking a hospital birth.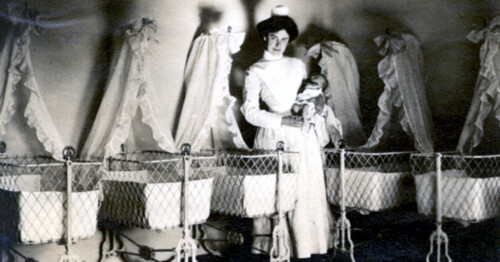 To meet the rising demand, in 1905 the hospital moved to a large new modern purpose-built facility on St. Urbain Street. Space soon became an issue again, however, and in 1926, the hospital merged with the Royal Victoria Hospital and moved to the newly constructed Women's Pavilion, becoming the Royal Victoria-Montreal Maternity Hospital.  
Since 1997, the Royal Vic has been part of the McGill University Health Centre (MUHC). Its maternity unit is now known as the MUHC Birthing Centre, located at the Glen site, and is renowned for its specialized care for high-risk pregnancies.  
Related: 
The Montreal Maternity, 1843-1926: Evolution of a Hospital, thesis by Rhona Richman Kenneally, Department of History, McGill University, 1983
History of the Department of Obstetrics and Gynecology, McGill University