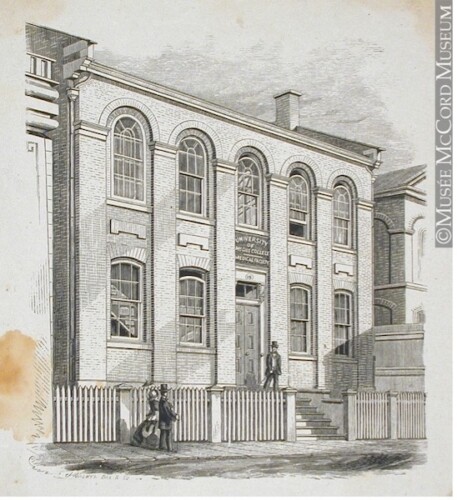 In the decades before McGill's Faculty of Medicine (now the Faculty of Medicine and Health Sciences) was founded, health care in Montreal was delivered by a hodgepodge of private and church-run charity organizations. Apothecaries, midwives and private physicians provided medical care to the city's population, which was routinely ravaged by outbreaks of typhus, smallpox and cholera. Hôtel-Dieu had been around since 1644, but by the 19th century the city had outgrown its only hospital.
Medical training was also lacking in the Canadian colonies; with no university-based medical school, most physicians had to travel to Europe to train. The establishment of McGill College changed all that.
The birth of a Faculty
The new McGill College received its royal charter from King George IV in 1821. However, the College was soon in danger of losing its charter because, though it had appointed a principal and a few figurehead professors, it hadn't actually managed to form a faculty in any subject.
Meanwhile, the Montreal Medical Institution (MMI), a proprietary medical school established in 1823 by four Montreal General Hospital (MGH) physicians, could issue medical licences to its graduates but couldn't grant medical degrees because it had not obtained a royal charter. In a mutually beneficial arrangement, McGill College and the MMI merged in 1829. The MMI became the College's first faculty, and the MGH, from which the MMI had sprung, McGill's inaugural teaching hospital.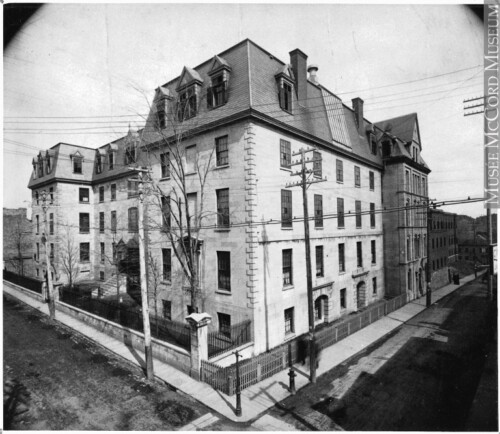 Montreal General Hospital
The MGH had opened in 1819 with funds raised by Montreal's English community after a failed petition to the Lower Canada House of Assembly to build a second hospital to serve the city's sick poor. The MMI's four founders – Dr William Robertson, Dr. John Stephenson, Dr. William Caldwell, and Dr. Andrew Fernando Holmes – all took professorships at the faculty and played important roles in the development of the medical school as well as the improvement of public health in Montreal. Robertson became McGill's first head of medicine while Holmes later became its first official Dean.
Four years after it opened, in 1833, McGill College awarded its first degree – in medicine – to William Leslie Logie. It was the first medical degree awarded in the Canadian colonies.
Increased knowledge leads to improved care
At McGill, as at other medical schools around the world, medical knowledge expanded immensely during the 19th century, with decisions about care becoming ever more based on scientific evidence. As a result, the health of Montreal's citizens gradually improved.
During this period, the study of pathology gained ground at the university, enhancing both medical training and doctors' understanding of disease. Hygiene also improved in the MGH's wards and operating theatres and in the city in general, leading to fewer infections and reducing the spread of deadly communicable diseases like cholera.
Related:
The Montreal General Hospital 200th Anniversary Exhibition
An historical sketch of the Medical Faculty of McGill University by Dr. Maude Abbott, Montreal Medical Journal, Vol. 31, no. 8 (Aug. 1902)
Back to 200 Years, 200 Stories