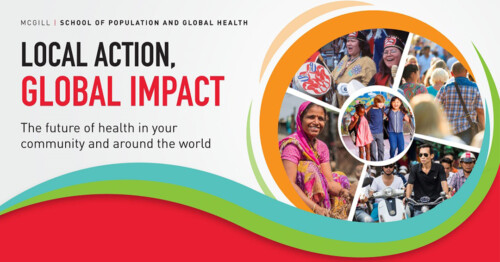 Edit the translation in Fr
Established in 2016, the School of Population and Global Health is the coming together of the Department of Epidemiology, Biostatistics and Occupational Health; the Institute for Health and Social Policy; McGill Global Health Programs; and the Biomedical Ethics Unit.  
The School's mandate is to nurture the development of world-class – and ground-breaking – research, novel educational programs, and scholarly innovations that address pressing and prospective population and global health challenges. Building on the existing strengths of the various units housed within the SPGH, the impetus is to develop and disseminate knowledge and know-how for effective interventions and policies to prevent, protect and enhance the health and well-being of individuals and populations in Quebec, Canada and globally with a particular focus on those with the greatest unmet needs.
On April 23, 2020, the Government of Canada launched the COVID-19 Immunity Task Force (CITF) to lead a Canada-wide effort to help determine the extent of SARS-CoV-2 infection in Canada in the general population as well as in specific communities and priority populations, and understand the nature of immunity related to COVID-19. The Task Force's Secretariat is housed at SPGH and is led by Dr. Timothy Evans, Director & Associate Dean of SPGH and Associate Vice-Principal (Global Policy and Innovation). In December 2020, the Task Force was assigned an additional role in vaccine surveillance and the Vaccine Surveillance Reference Group was formed.  
Related:
School of Population and Global Health