The period from 2008 until the present day has been marked by an increase in diversity of perspectives at McGill's Faculty of Law. Following the Report of the Truth and Reconciliation Commission, the Faculty of Law has increased its efforts to be active participants in the process of reconciliation with Indigenous peoples in Canada. In this vein, McGill built on its earlier efforts to incorporate Indigenous legal traditions into its curriculum, and hired its first Indigenous professor, Aaron Mills, who is a Bear Clan Anishinaabe. McGill students also spearheaded a number of initiatives to support women in law, including the Law Needs Feminism Because photo campaign and Contours, a student-run magazine that showcases articles by women and non-binary authors. Florence Ashley, a McGill graduate, became the first transgender Supreme Court clerk. The McGill Law community continued to shape Canadian policy through the many alumni elected as members of Parliament, and by way of Professor David Lametti, who was named Minister of Justice and Attorney General of Canada in 2019. Furthermore, this period marked a strong McGill Law presence on the Supreme Court of Canada's bench, as three alumni–Clément Gascon, Sheilah Martin and Nicholas Kasirer–were named justices.
In this period: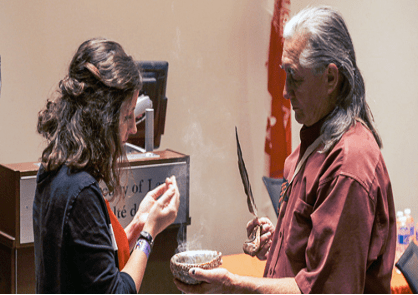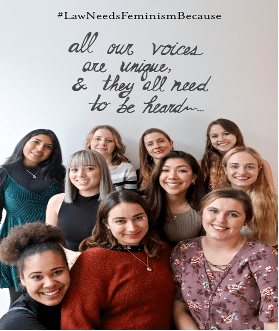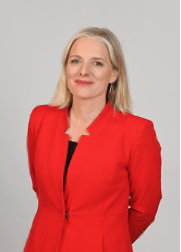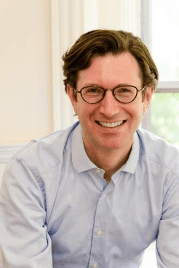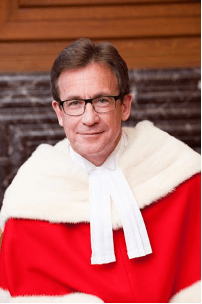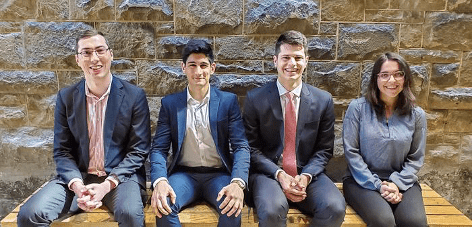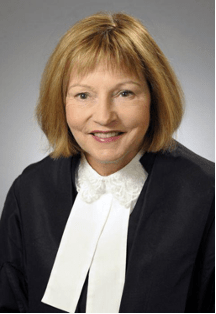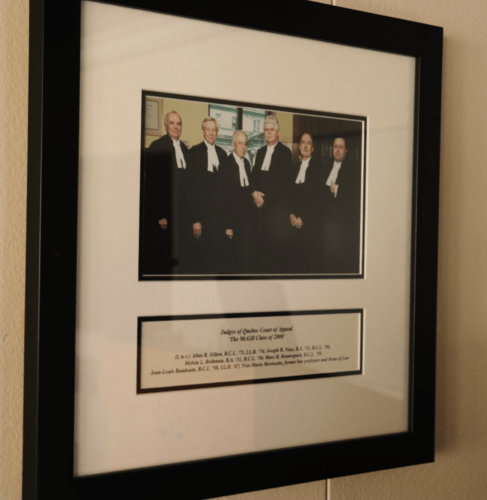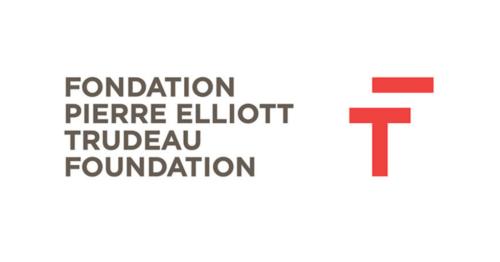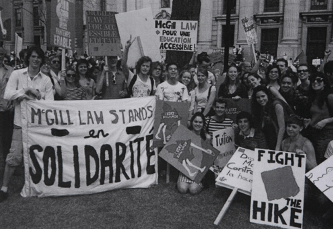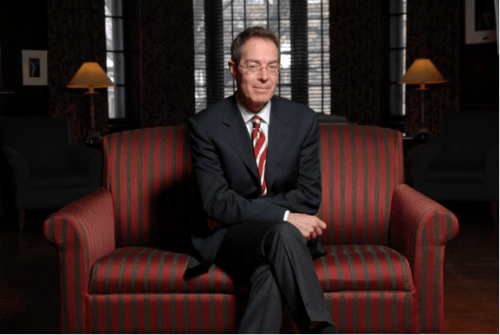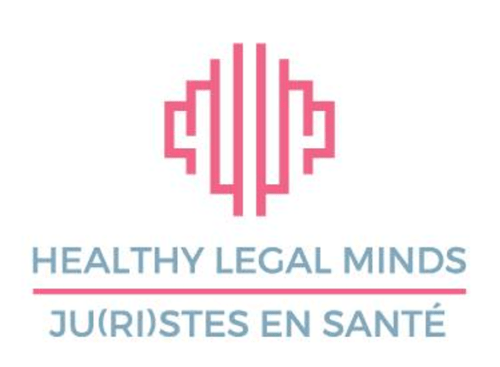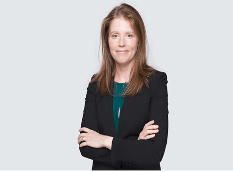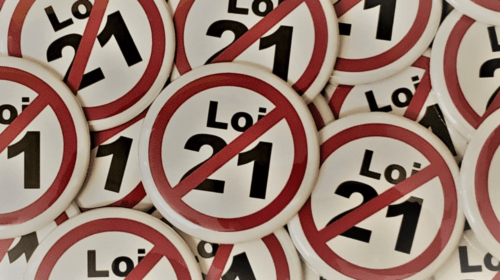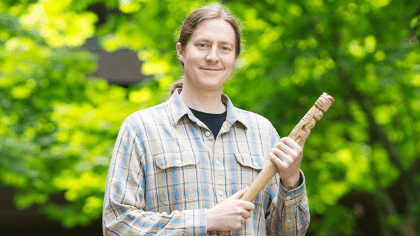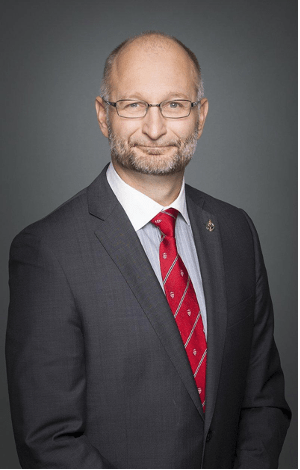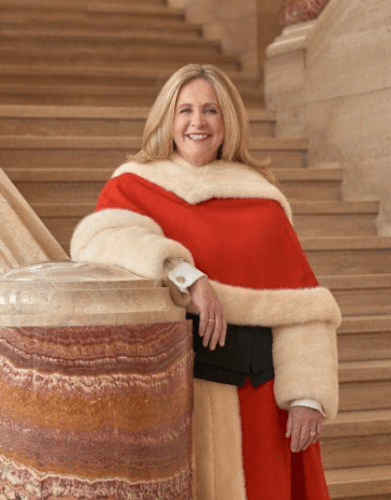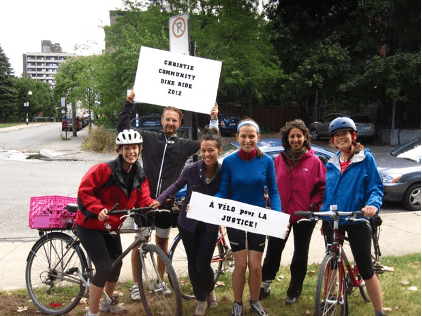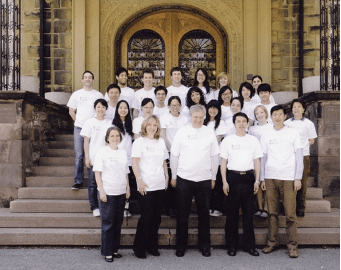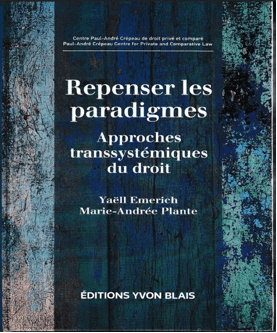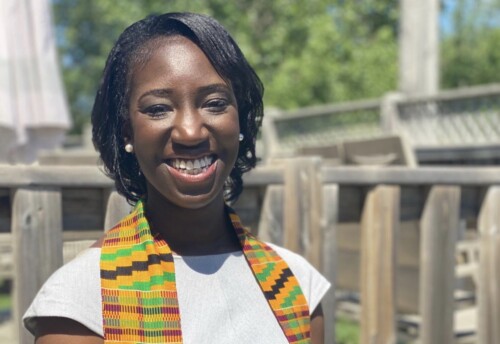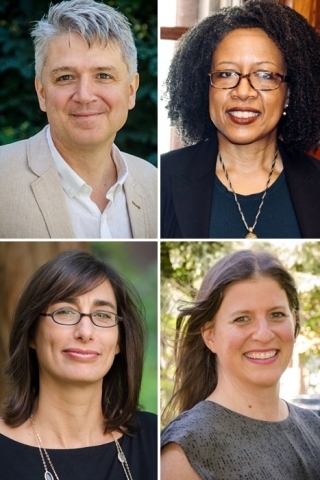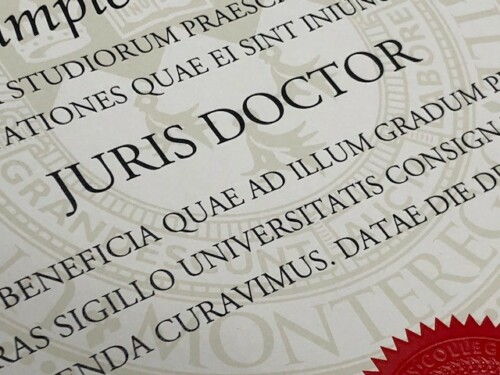 A New Chapter for Indigenous Perspectives at McGill Law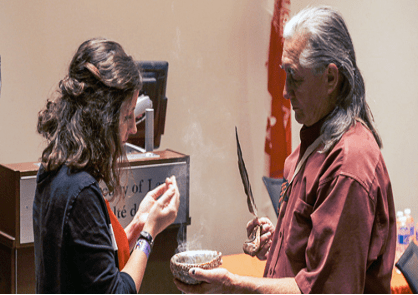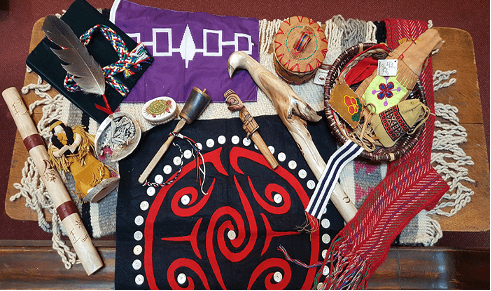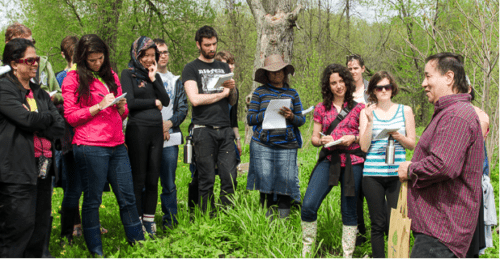 McGill Law now offers the Indigenous Studies Field Course, which began in 2009. Conducted as a one-month intensive course in May, students spend three weeks learning at McGill and one week at Kahnawake (Mohawk Territory). The course teaches students to connect Indigenous traditions and worldviews with their respective disciplines. In 2015, the Truth and Reconciliation Commission (TRC) singled out Canadian law schools as having a special responsibility to educate students about the history and legacy of residential schools. In response, McGill launched the Task Force on Indigenous Studies and Indigenous Education and hired Anishinaabe Professor Aaron Mills and Metis Professor Kerry Sloan. In addition to various courses, such as Criminal Justice and Property Law (both required, year-long courses), that incorporate Indigenous legal traditions into their curricula, the Faculty created a new course in Indigenous Legal Traditions that all first-year law students, beginning in the Fall of 2020, take as part of their compulsory first-year program.
In 2018, McGill hosted the Kawaskimhon Aboriginal Law Moot, an annual non-competitive moot based on negotiation that first began in 1994. Professor Kirsten Anker commented that "one path to reconciliation in Canada might come from the recognition, through learning experiences like the Kawaskimhon Aboriginal Law Moot, that Indigenous legal orders have a lot to offer us all." The Indigenous Law Student Association/Association de Droit Autochtone (ILADA) was recently founded at McGill and, in 2019, a Faculty Motion was passed requiring all compulsory courses to contain some indigenous content.
Feminism at McGill Law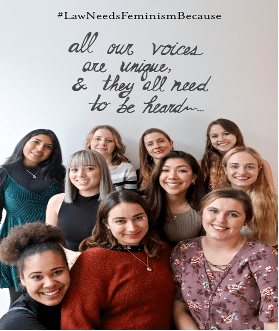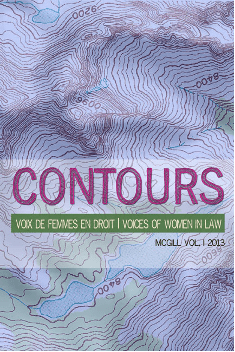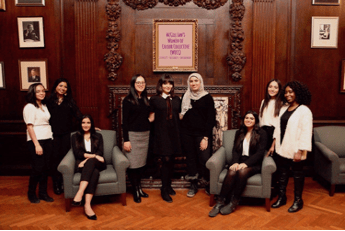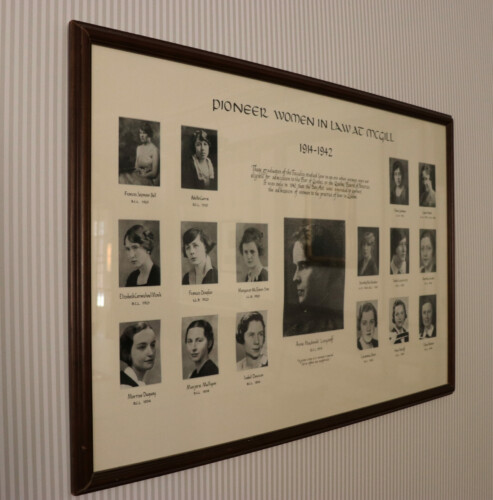 In the past few years, a number of clubs and organizations have been established at McGill's Faculty of Law with goals of amplifying women's voices and starting conversations about issues surrounding gender. In 2016, two McGill Law students, Rachel Kohut and Vanita Sachdeva, launched the first Law Needs Feminism Because (LNFB) campaign. During their campaigns, LNFB takes photos of people with a caption explaining why they believe law needs feminism today, in hopes to highlight the many perspectives on gender and intersectionality. The campaign has flourished and expanded to 17 law schools across the country. Their mission is to "provide a platform to facilitate conversation about how to make our law schools, legal profession and justice system more accessible, diverse and inclusive."
Contours: Voices of Women in Law is a student-led journal that focuses on amplifying women's voices in the faculty and engendering debates around intersectional feminism. The journal includes stories, poems, photos, essays, and research studies. As described in the foreword of Volume III, the journal "serves as a platform for women and non-binary individuals, but also as a repository of knowledge that resists the assumption that legislation, case law, and doctrine are the only valid sources of legal learning." The Women of Colour Collective is a community of women and trans people of colour at the McGill Faculty of Law that provides mentorship, support, and organizes social and educational events at the faculty.
McGill Law Leaders in Canadian Politics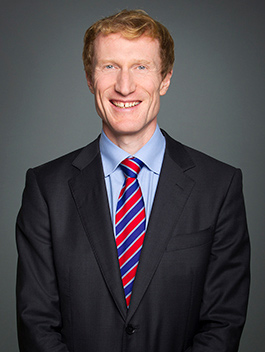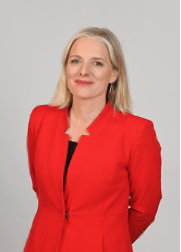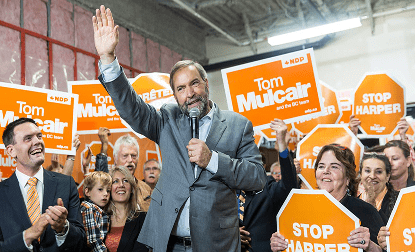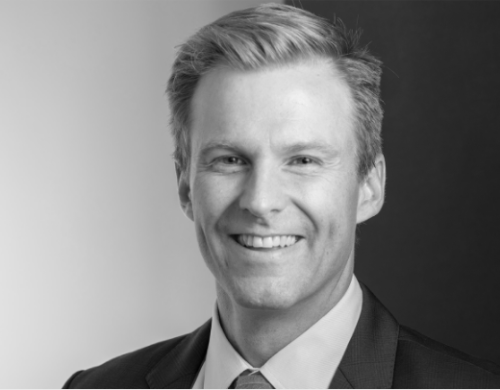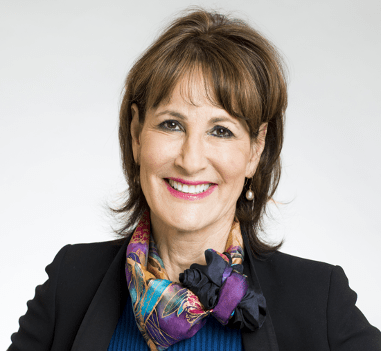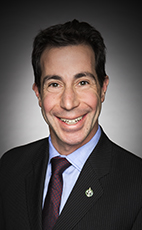 McGill Law alumni have often entered the political sphere at the local, provincial, and federal level. A number of prominent MPs, premiers, and even party leaders have graduated from McGill's Faculty of Law. Catherine McKenna, LLB'99, Thomas Mulcair, BCL'76, LLB'77, Joe Oliver, BCL'64, and Marc Miller, BCL'01, LLB'01, have all served in Parliament with impressive ministerial portfolios and careers. Anthony Housefather, BCL'93, LLB'93, has served as Member of Parliament for Mount Royal since 2015, after serving 10 years as Mayor of the City of Côte-Saint-Luc. Kathleen Weil, BCL'82, LLB'82, Brian Gallant, LLM'11, and Joël Lightbound, BCL/LLB'11 have served in the provincial legislatures of Quebec and New Brunswick with equally impressive ministerial posts and careers.
McGill Law and Teaching Excellence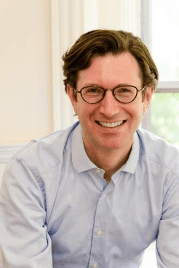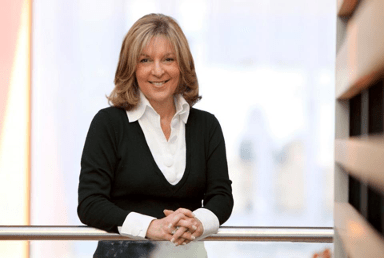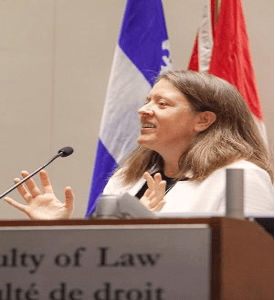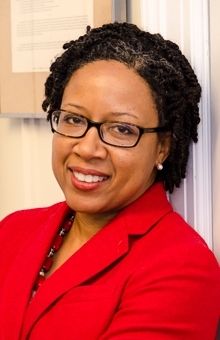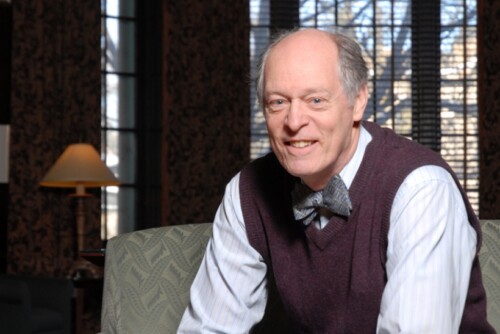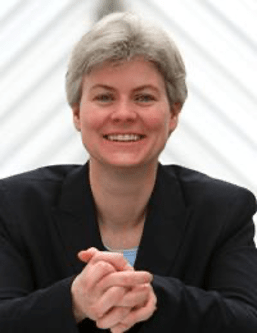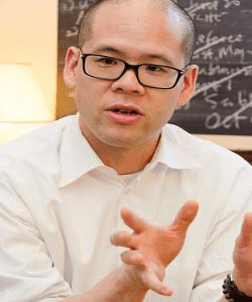 McGill's Faculty of Law is home to outstanding educators. Every year, McGill University awards the Principal's Prize for Excellence in Teaching. A number of McGill Law professors have been recipients of this award, namely Dean Robert Leckey, Professors Rosalie Jukier, Hoi Kong, and Allison Christians. They have each also received – at least once – the John W. Durnford Teaching Excellence Award from the Faculty of Law. Recently added to the list of McGill law professors receiving the Principal's Prize for Excellence in Teaching is Professor Adelle Blackett. McGill University has also awarded its highest honour for teaching, the McGill University Lifetime Achievement Award for Leadership in Learning, to Rod Macdonald, and Kim Brooks, recipient of the 3M Teaching Fellowship, went on in 2010 to become Dean of Law at the Schulich School of Law at Dalhousie University.
McGill Law at the SCC: Clément Gascon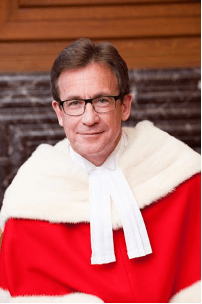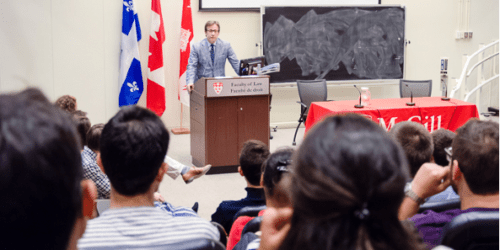 On June 4, 2014, Clément Gascon, BCL'81, was appointed to the Supreme Court of Canada. Gascon worked as a lawyer for 21 years, specializing in labour law and commercial litigation. He has been an adjunct professor at McGill Law and at the Université du Québec à Montréal. Prior to his Supreme Court appointment, he was appointed to the Quebec Superior Court in 2002, and the Quebec Court of Appeal in 2012. Gascon retired from the Supreme Court in September 2019.
Clément Gascon retired early from the Supreme Court of Canada at the age of 59. Gascon initially cited "personal reasons" as the motivation for his retirement, but more recently has spoken publicly about his lifelong struggle with depression and anxiety. Many have lauded his openness about mental health, and are glad to see a Supreme Court Justice speak about it so openly. Justice Minister and Attorney General of Canada David Lametti, BCL'89, LLB'89, has commented: "It takes courage for anyone to speak out about their struggles with mental illness, let alone when that person is a Supreme Court Justice. Judge Gascon has demonstrated courage and strength throughout his career and in his willingness to share his story with Canadians." Gascon is pictured above speaking in McGill Law's Moot Court, giving the keynote speech for the entering class of 2014's orientation.
McGill Law Clerks at the SCC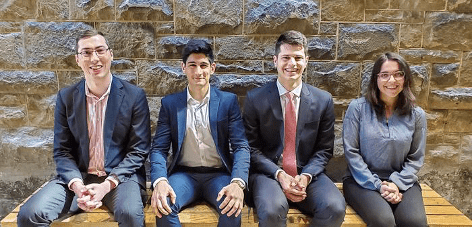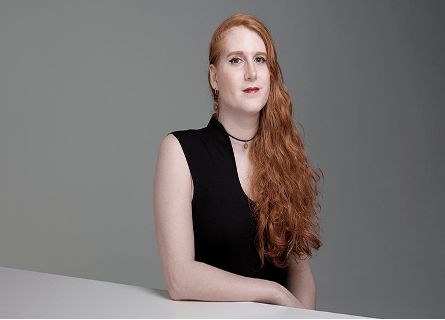 Clerking at the Supreme Court of Canada is a highly coveted opportunity for recent law graduates. Clerks get the opportunity to work with Supreme Court Justices and perform duties such as writing bench memos and helping in the preparation for hearings. Students from McGill Law have consistently had a disproportionate presence at the Court, averaging about 22% of the clerks. McGill Law's high caliber in scholarship, along with its bilingual and pluralist nature makes the faculty's students particularly suited to clerk at the country's highest court.
In 2019, Florence Ashley, BCL/LLB'17, LLM'20, became the first openly trans person to clerk on the Supreme Court of Canada, working under Justice Martin. Ashley is currently completing a Master's in law at McGill with a specialisation in bioethics. Ashley is an activist, a widely published author, and has already received many awards and scholarships, including the SSHRC Joseph-Armand Bombardier Graduate Scholarship, the O'Brien Graduate Fellowship for Human Rights and Legal Pluralism, and the Sexual Orientation and Gender Identity Community Section Hero Award from the Canadian Bar Association.
Strong McGill Law Presence on Canadian Appellate Courts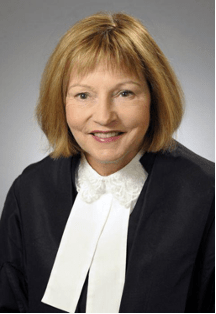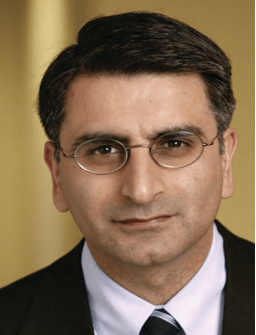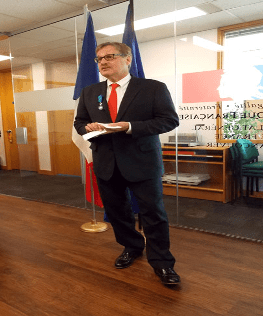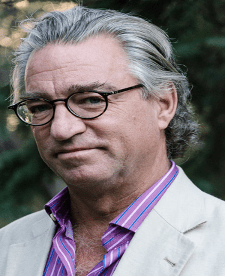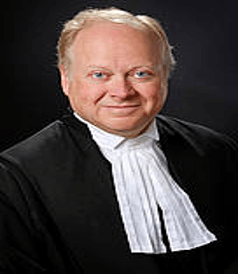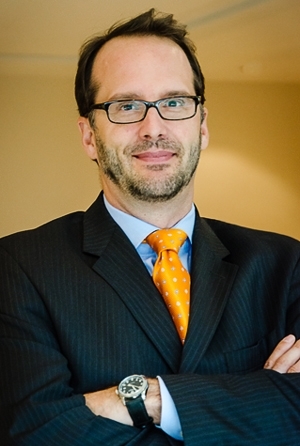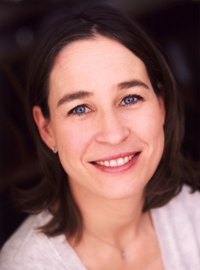 The Honourable Alison Harvison Young, BCL'83, LLB'83 was appointed to the Ontario Court of Appeal in 2018 after serving on the Ontario Superior Court of Justice for 14 years. Prior to her time as a judge, Harvison Young had a distinguished career as a legal academic who focused on family law, and also served as dean of Queen's University Faculty of Law. The Honourable Mahmud Jamal, BCL'93, LLB'93, was a renowned litigator at Osler, Hoskin & Harcourt LLP, as well as the Director of the Canadian Civil Liberties Association prior to his appointment to the Court of Appeal for Ontario in 2019. The Honourable Patrice Abrioux, LLB'80, was named to the British Columbia Court of Appeal in 2019 after serving 8 years on the Supreme Court of British Columbia. Abrioux is fluently bilingual and has contributed greatly to British Columbia's francophone community. He was awarded France's Ordre National du Mérite for these contribution. The Honourable Patrick Healy, BCL'81 joined the Quebec Court of Appeal in 2016 after almost a decade serving as a judge on the Criminal and Penal Division of the Court of Quebec. The Honourable Stephen W. Hamilton, BCL'84, LLB'84, was appointed to the Court of Appeal for Quebec in 2018, after serving as a Superior Court Justice for five years. While a law student at McGill, Hamilton won the Elizabeth Torrance Gold Medal.
The Honourable Justice Frédéric Bachand was appointed to the Quebec Court of Appeal in 2020 after serving as a justice of the Quebec Superior Court since 2017. Before being named to the bench, he was a professor in McGill's Faculty of Law since 2003 and a winner of the John W. Durnford Teaching Excellence Award. The Honourable Justice Christine Baudouin, LL.M'12, was appointed to the Quebec Court of Appeal in 2020, after serving on the Superior Court since 2017. She obtained a Masters in Law from McGill in Bioethics.
"Class of 2008"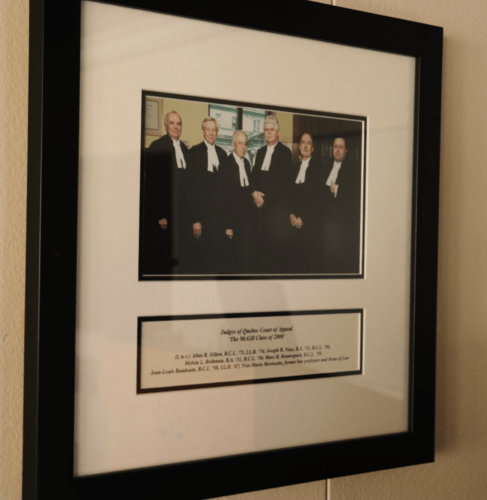 The "Class of 2008" is a photograph taken of six judges of the Quebec Court of Appeal, most of whom attended McGill for law school, with the exception of Yves-Marie Morissette. This image demonstrates McGill Law's strong presence at the Quebec Court of Appeal during this time period. The judges featured in this photo are:
Allan R. Hilton, BCL'73, LLB'74, was appointed as a judge on the Quebec Court of Appeal in September of 2003.
Joseph R. Nuss, BCL'58, served as a judge on the Quebec Court of Appeal from 1995 to 2009. Since 2009, he has returned to private practice and specializes in arbitration and mediation.
Melvin L. Rothman, BCL'1954, was a judge on the Quebec Court of Appeal from 1983 to 2005. In 2006, a scholarship was established in his name at the Faculty of Law.
Marc R. Beauregard, BCL'59, had a long career as a judge at the Quebec Court of Appeal, serving from 1980 to 2012.
Jean-Louis Baudouin, BCL'1958, LLD'07, served as a judge for the Quebec Court of Appeal, from 1989 to 2008. In 2007, he was awarded Doctor of Laws, honoris causa from McGill University for his impressive contributions to the legal world.
Yves-Marie Morissette, former dean and professor at McGill Law, was appointed to the Quebec Court of Appeal in 2002.
McGill Law Professors Receive Trudeau Fellowships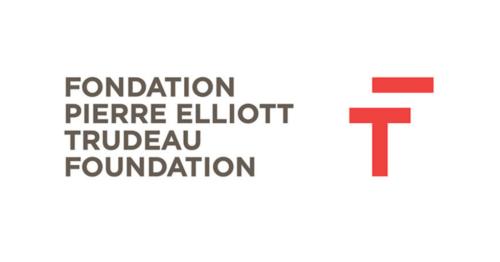 A Trudeau Fellowship is one of the most prestigious grants an academic can receive in Canada. The Pierre Elliott Trudeau Foundation awards up to five fellowships every year to researchers who demonstrate "research achievements, creativity and commitment to critical social issues of importance to Canada." A number of professors at McGill's Faculty of Law have been awarded a Trudeau Fellowship, namely Professors Roderick Macdonald, Daniel Weinstock, François Crépeau, BCL'82, LLB'82, René Provost, and Adelle Blackett, BCL'94, LLB'94. Former professor and dean at McGill Law, Stephen Toope, BCL'83, LLB'83, LLD'17 has also served as president of the Foundation.
Both Rod Macdonald and Daniel Weinstock, an expert in legal theory, ethics, political philosophy, and cultural diversity, were awarded the Pierre Elliott Trudeau Fellowship in 2004. François Crépeau, BCL'82, LLB'82, an expert in migration, human rights and public international law, received the Pierre Elliott Trudeau Fellowship in 2008. René Provost, Ad. E., received the Pierre Elliott Trudeau Fellowship in 2015 for his research on the application of international law in insurgent conflict zones. Adelle Blackett, BCL'94, LLB'94, received the Pierre Elliott Trudeau Fellowship in 2016 for her research on international labour law.
McGill Law Strikes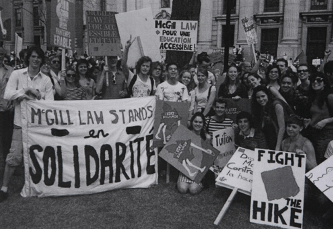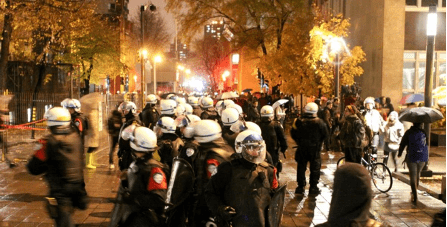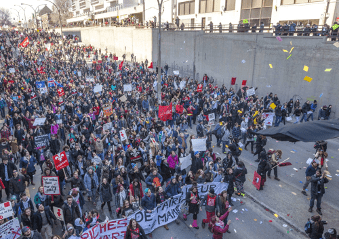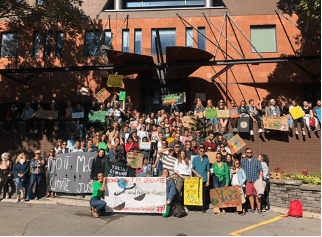 In 2011, the Government of Quebec proposed a tuition hike that would double tuition rates within a few years. McGill Law students were amongst those to join the protests (dubbed "The Maple Spring") to halt the proposed hikes. Riot police came to campus and, in trying to quash the protest, quickly clashed with the protestors and left many students beaten and bruised. Daniel Jutras, at the time Dean of the Faculty of Law, was charged with investigating the incident. In the November 22nd issue of the Quid Novi, McGill Law students wrote open letters to Dean Jutras asking him to reconsider leading the investigation.
In 2015, students across Quebec once again mobilized against the provincial government's general austerity policies. Pictured above is the April 2 march, which over one hundred thousand students attended. This was the first strike in the history of the faculty. McGill Law students voted by 92% to go on strike for the second time in September 2019 in solidarity with the Global Climate Strike and the Faculty of Law chose to cancel classes for the day. Pictured above is the group of both students and professors who met outside the Faculty to march in the climate march together. It is estimated that 500,000 people attended the climate march in Montreal on September 27, 2019, making it the largest march in the province's history. Larissa Parker, a BCL/LLB candidate and one of the main organizers of the vote to strike, drew the country's attention for being published on the subject in the Economist.
McGill Law at the SCC: Former Dean Nicholas Kasirer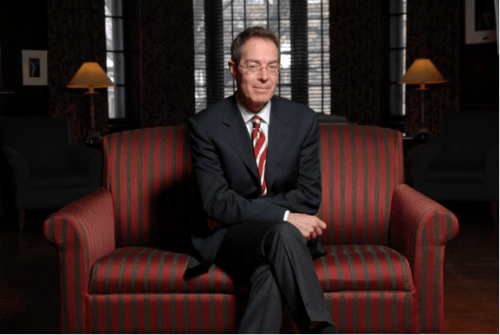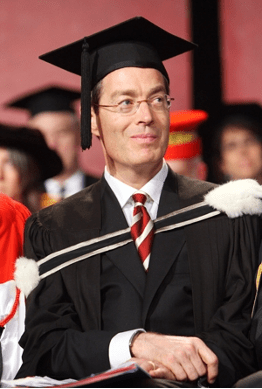 In 2019, Prime Minister Justin Trudeau nominated Nicholas Kasirer, BCL'85, LLB'85, to the Supreme Court of Canada, replacing Justice Clément Gascon, BCL'81, upon his retirement. Kasirer is not only a McGill grad: he was a professor at the Faculty of Law for 20 years and served as dean from 2003 to 2009. He left the Faculty in 2009 after his appointment to the Quebec Court of Appeal. Kasirer also holds a diploma in international law from Université Paris I (Panthéon-Sorbonne).
Kasirer has been published over one hundred times, and is revered as an expert in private and comparative law. He has volunteered and worked on a vast number of legal committees and holds multiple honours, such as the Queen Elizabeth II Diamond Jubilee Award and the Prix de la Fondation du Barreau du Quebec. In addition to his experience teaching law students, Kasier has also given trainings to judges, lawyers, and academics. Current McGill professor, and former colleague of his, Professor Rosalie Jukier commented that Kasirer is "perfectly bilingual, extremely erudite and articulate, intellectually strong, honest and humble". She went on to comment that Kasirer "has the perfect judicial temperament and is a most judicious choice for this position on the bench of Canada's highest court."
Accessibility and Mental Health Initiatives at the Faculty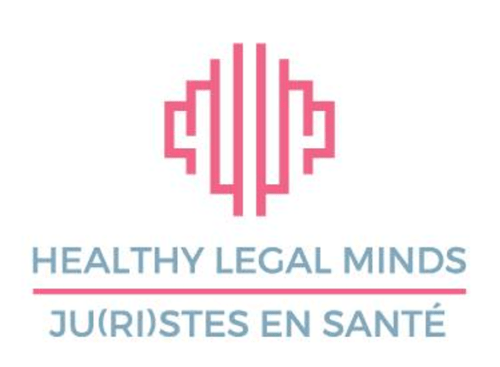 The demographic of law students and faculty members at McGill Law has changed tremendously since its inception. As students with invisible and physical disabilities have had an increased presence at the Faculty of Law, there has been a growing need to raise awareness and make the faculty more accessible. Heading in the right direction, the Faculty of Law has made improvements to the physical accessibility of the building as a whole by installing elevators and wheelchair lifts. There has also been an increase in access to mental health services and education. These have been positive steps towards a universally accessible space and a part of a larger movement towards addressing invisible and physical disabilities in the legal profession as a whole.
Healthy Legal Minds is student-led organization at McGill Law that was founded in response to the high instances of mental health issues among law students and legal professionals. Some of their initiatives include photo campaigns, surveys on mental health among law students, space improvement at the faculty, and organizing workshops. There was another positive change for mental health issues at the Faculty in 2019, when McGill Law received its first on-site local wellness advisors, Shrabani Debroy and Heleen Loohuis. This was an initiative of the Rossy Student Wellness Hub which provides preventative aid, helps connect students and faculty members with appropriate services, and provides mental health education through workshops and informational sessions.
McGill Law and the Arts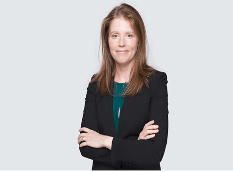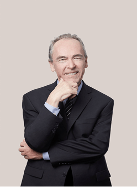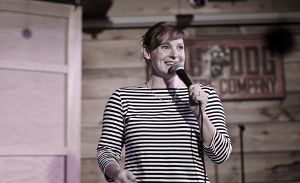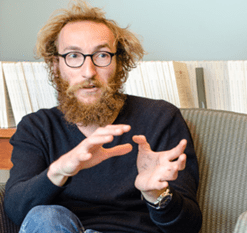 McGill Law students have gone on to excel in fields other than just law and politics; a number of alumni have had tremendous success in the arts as well. Catherine McKenzie, BCL'99, LLB'99, has been able to juggle two successful careers as a renowned lawyer and as a best-selling author. McKenzie published her first book in 2009 and has published numerous others since. Her books have appeared on bestseller lists on Amazon, Goodreads, and the Globe and Mail. She released her most recent novel, I'll Never Tell, in 2019. McKenzie is a partner at IMK, a boutique litigation firm in Montreal. In 2019, she filed a legal challenge to the Government of Quebec's Bill 21. Within the Canadian legal community, Peter Kirby, BCL'83, LLB'85, is recognized as one of Canada's leading experts in trade and international arbitration law. Outside of the legal sphere, Kirby has reinvented himself in 2012 by publishing his first crime novel, The Dead of Winter, a story which follows a Franco-Ontarian sleuth named Luc Vanier. Kirby has published two more novels in the Luc Vanier series, Vigilante Season and Open Season, the latter winning the Arthur Ellis Award.
After a successful career as a lawyer working in the field of international war crimes at The Hague, Jess Salomon, BCL/LLB'04, decided to shift gears and become a comedian. Salomon has performed at Just for Laughs, was a semi-finalist in SiriusXM's Top Comic competition, and performed on The Tonight Show Starring Jimmy Fallon. The day after David Heti, BCL/LLB'09, was called to the bar, he left for New York to pursue a career in comedy because "[l]aw just made me miserable" Heti released his first comedy album It Was Ok in 2014 and his second album And You Will Regret It in 2018.
McGill Law's Response to Bill 21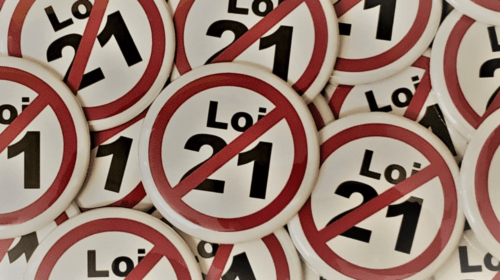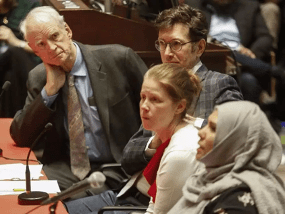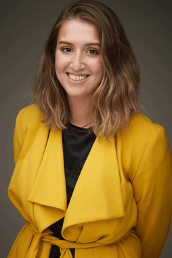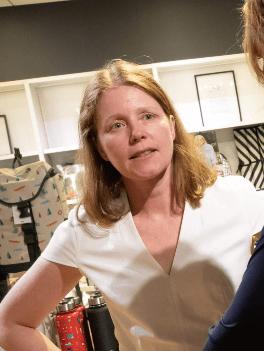 In 2019, the Government of Quebec tabled Bill 21, which aimed to ban many public sector workers from wearing religious symbols in the workplace. The bill raised many legal questions, as it invoked the controversial and rarely-used notwithstanding clause (Section 33 Charter) in order to infringe upon religious freedoms. Dean Robert Leckey was one of the main experts to whom media turned. As a constitutional law expert and advocate for inclusion and diversity, Dean Leckey has spoken on this issue to CTV, CBC, the Montreal Gazette, and Breakfast Television, among other news outlets. The McGill Muslim Law Students' Association hosted a panel on Bill 21 that featured Charles Taylor, Dean Robert Leckey, Catherine McKenzie, and Nadia Nadjva. The panel drew a large crowd, filling the Maxwell Cohen Moot Court, with many people having to sit on the stairs and the floor.
Catherine McKenzie filed the challenge in the Quebec Superior Court after the bill was passed on behalf of the Canadian Civil Liberties Association and National Council of Canadian Muslims. She successfully argued against Bill 62's religious symbols ban in 2017, and hopes to have success again with Bill 21. Professor Shauna Van Praagh also spoke out against the bill in her article "Encore: The what, why and where to of Quebec's Bill 21", which debunks the assumption that children may be coerced by teachers who show their faith. Also speaking out against Bill 21 was student Lina Bensaidane (second photo on the right), co-founder of the Muslim Law Students' Association, and recipient of the inaugural Centre culturel islamique de Québec Memorial Award for her work to advance the inclusion of Muslims in Quebec and Canadian society. The award was created in the wake of the horrific Quebec City mosque shooting in 2017 that left six dead.
In November 2020, when the hearing on the merits of the case began before the Quebec Superior Court, McGill Law student groups, including RadLaw McGill and the McGill Muslim Law Students' Association, organized peaceful demonstrations outside the courthouse.
Aaron Mills: McGill Law's First Indigenous Professor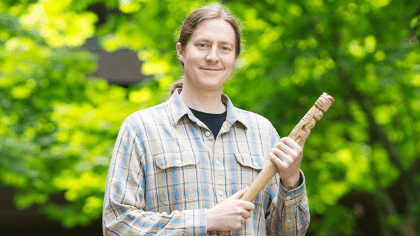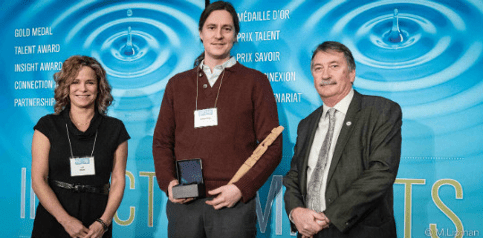 In August 2018, Professor Aaron Mills, who is Anishinaabee, became the first Indigenous professor at McGill Law. Before coming to McGill, Professor Mills sat on the board of directors of the Indigenous Bar Association and of Aboriginal Legal Services, and was editor-in-chief of the Indigenous Law Journal. With a JD from University of Toronto, an LLM from Yale, and a PhD from the University of Victoria, Professor Mills has worked extensively in the field of Indigenous constitutionalism and has been recognized many times for his work. He is a SSHRC Talent Award winner, a Pierre Elliott Trudeau Foundation Scholar, a Vanier Canada Scholar and a Fulbright Canada Scholar. In an interview, Professor Mills spoke about how during his time at McGill he wanted to give a voice to Indigenous legends and the real work they do in developing Indigenous law. He has worked to revitalize the tradition of legend telling in his own community, spearheading a project with his grandmother.
Professor Mills cited that more Indigenous students than ever applied to – and were accepted to – McGill Law for the 2019-2020 academic year. He wants potential Indigenous applicants to be able to see themselves at McGill Law. Mills stated that McGill was really looking to "build something that lasts" in including Indigenous legal traditions in the curriculum, and that he would like to see a cluster hire of new Indigenous professors so that the plurality and depth of Indigenous law can be taught. This past year, Mills was named the Canada Research Chair in Indigenous Constitutionalism and Philosophy.
David Lametti Named Minister of Justice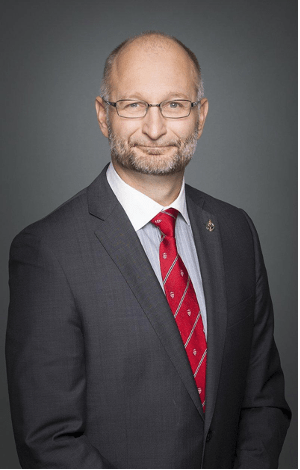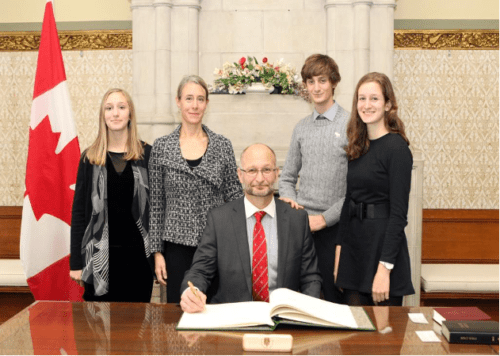 The Honourable David Lametti, PC, MP, QC, BCL'89, LLB'89, a professor of law at McGill was reappointed as minister of justice and attorney general of Canada in November 2019. He has held the post since 14 January 2019. Professor Lametti has represented the riding of LaSalle—Émard—Verdun since 2015. At the Faculty of Law, Lametti served as associate dean (academic) from 2008 to 2011. He was also a founding member of the Centre for Intellectual Property Policy, which he served as director from 2009 to 2012.
David Lametti had an active student life during his time at McGill Law. As president of the Law Students' Association, Lametti helped establish one of the faculty's most cherished traditions – the weekly Coffeehouse. A gifted student, Lametti clerked for Justice Peter Cory at the Supreme Court of Canada, and then obtained an LLM from Yale and a DPhil (Law) from Oxford University.David Lametti was a professor at McGill's Faculty of Law from 1995 to 2015, before he went on leave to enter the field of politics. Lametti considers his work in Parliament as a dream, noting that Canada was so good to his parents who immigrated from Italy, and feels that this job is allowing him to repay a debt to the country.
McGill Law at the SCC: Sheilah Martin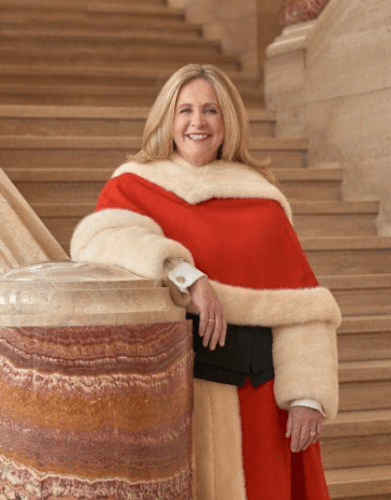 In the words of Justice Sheilah Martin, BCL'81, LLB'81, she has led "a long and full life." Prior to her appointment to the Supreme Court of Canada in 2017, Martin's legal career saw her take on many roles, including  scholar, professor, dean, litigator, advocate, judge on the Court of Queen's Bench of Alberta, Deputy Judge for the Supreme Court of Yukon, as well as a Justice for the Courts of Appeal of Alberta, the Northwest Territories, and Nunavut,. She is known as a passionate advocate for greater equality in the country, particularly for women and Indigenous peoples. She has received numerous awards, including the Law Society of Alberta Award for Distinguished Legal Scholarship, the conferral of Queen's Counsel, and the Law Society of Alberta Certification of Merit.  She was also named one of the Canadian Lawyer's Top 25 Most Influential lawyers in Canada in 2016.
Sheilah Martin is known for her advocacy, especially in equality issues. She has been an advocate for women's issues her entire career, addressing topics such as sexual assault and section 15 of the Charter extensively. She has received the Y.W.C.A. Woman of Distinction Award for the Advancement of Women in Calgary. She is also known for advocating for more indigenous perspectives and representation in the legal profession, and was one of three lawyers on a larger team that drew up the Indian Residential Schools Settlement Agreement. She describes this as "among the most meaningful and challenging work of my career."
McGill Law Participates in Christie Community Bike Ride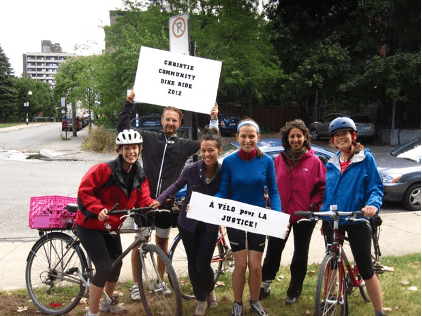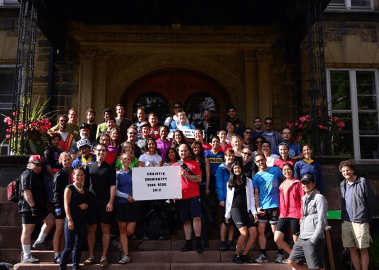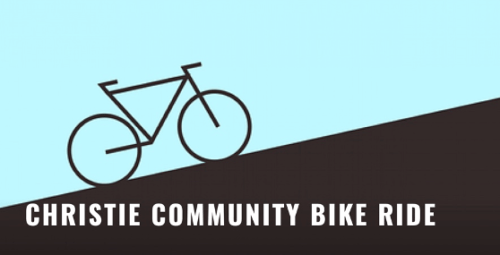 In 2009, McGill Law students organized the first annual Dugald Christie Memorial Community Bike Ride. The event is held in honour of Dugald Christie, who was killed while biking across Canada in an effort to increase awareness on issues of access to justice. Christie was a lawyer in British Columbia who challenged taxation on legal fees, arguing that it unconstitutionally excluded classes of low-income people from having access to legal services. During this legal challenge, Christie endeavoured to bike across Canada in order to increase awareness about issues relating to access to justice. Tragically, a van struck and killed Christie before he could finish the race or plead his case at the Supreme Court. Christie's challenge to the tax on legal services was denied by the Supreme Court of Canada in 2007.
McGill Law organizers of the Christie Bike Ride chose to hold the event at the start of the school year to expose new law students to Dugald Christie's story: "We want students to know his story as soon as they walk through the Law Faculty's door. We want the lens through which they read their cases and learn the law to be one that focuses on the importance of people having access to legal services, and to laws created for the betterment of all members of society." Large numbers of McGill Law students and staff members participate every year, cycling about 50 kilometers and raising thousands of dollars. The bike ride is held annually during the fall, and the money raised is donated to various charities in the community.
McGill Law's Exchange with Shantou, China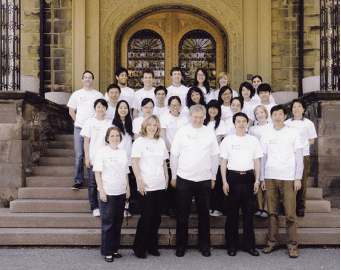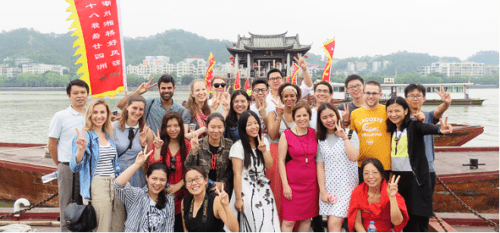 In 2010, McGill University and Shantou University in China established an exchange program for their law students, thanks to a generous gift from the Li Ka Shing Foundation. Since then, the two universities alternate in hosting ten students from both institutions for an intensive, two-week summer course. Students have the chance to learn the law from a different perspective, immerse themselves in a new culture, and foster links with students abroad.
Students who participate in this exchange program attend classes, visit courts, and participate in local cultural activities. Students from McGill have lauded the program as an opportunity to extend the reaches of their legal education so that it has an even more globalized approach than it normally would. This is an incredible opportunity for law students, as it "enables its participants to learn from each other and through comparison of different experiences and different legal systems."
Curriculum Update and Transsystemic Education Today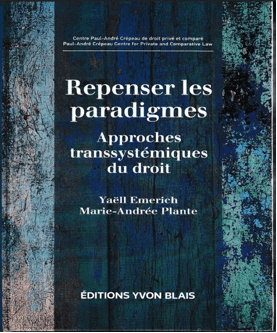 In 2012, McGill Law was host to the international conference Stateless Law? The Future of the Discipline. The two-day conference addressed the topic of "stateless law" through discussions of transsystemic legal education, transnational law, pedagogy, and legal pluralism. The conference led to the 2014 book, Stateless Law: Evolving Boundaries of a Discipline, edited by Professors Helge Dedek and Shauna Van Praagh. In 2016, the McGill Faculty of Law instituted major reforms to its curriculum. The Property course became the last mandatory course to become transsystemic, and Criminal Justice became a first-year course with an interdisciplinary approach. The Faculty also introduced a Focus Week each semester, where students can take a short, intensive class. Finally, Integration Week was established, where the first week of both semesters for first-year students are dedicated to learning practical skills in small group settings.
In May 2017, the Paul-André Crépeau Centre for Private and Comparative Law hosted a sold-out conference Repenser les paradigmes: Quel avenir pour l'approche transsystémique du droit? The conference occurred almost two decades after the transsystemic program was established at McGill Law, and was a forum for reflection on the past and future of transsystemia. Members of the panels hailed from across Canada and Europe to speak about transsystemic research and pedagogy. The conference led to a book, Repenser les paradigmes: Approches transsystémiques du droit, published in 2018. Edited by Professor Yaëll Emerich and DCL candidate Marie-Andrée Plante, the book features thirteen articles by academics who participated in the conference.
Notable Valedictorians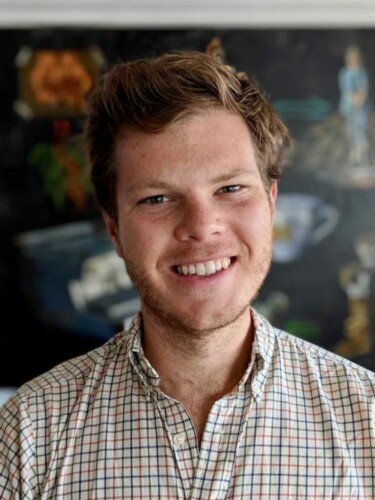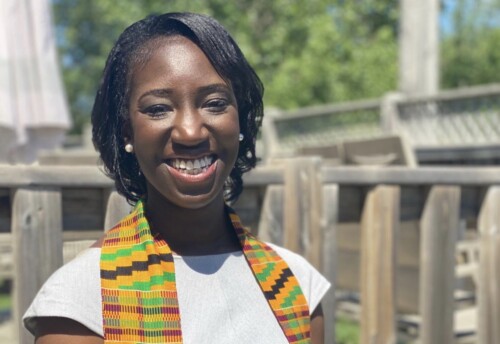 At its 2019 Convocation, André Moreau served as the Faculty's Valedictorian. McGill Law's first Indigenous valedictorian, André received the Gretta Chambers Student Leadership Award in recognition of demonstrated leadership and contribution to the advancement of the McGill community.
At its 2020 Convocation, which was held virtually due to the COVID-19 pandemic, Deborah Yeboah was elected by her peers to serve as Valedictorian, the first Black student to do so. Deborah represented McGill at the Julius Alexander Isaac Diversity Moot competition, and has called it one of the highlights of her time as a student at McGill Law.
McGill Law's Response to the COVID-19 Pandemic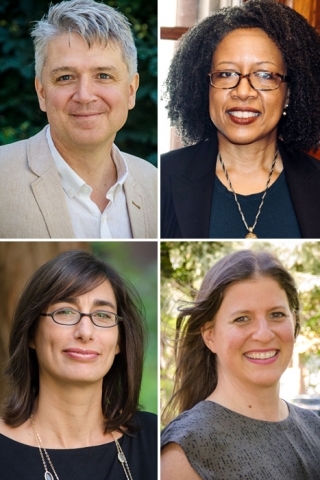 McGill Law began operating on a remote platform on March 13, 2020 in an effort to curb the spread of the novel coronavirus that caused a global pandemic.. Classes and assessments shifted to being delivered remotely for the remainder of the Winter 2020 term, the Summer 2020 term, the Fall 2020 term and the Winter 2021 term.
The Faculty acted quickly to put together an Ad Hoc Committee on Remote Pedagogy, chaired by Professor Sébastien Jodoin, whose mandate was to help the Faculty of Law adapt its teaching and learning to a remote environment in light of the COVID-19 crisis. The Committee created a document entitled, "Guidelines and Toolkit on Remote Pedagogy" which covered topics such as class recordings, expectations for student participation, synchronistic/asynchronistic teaching, relationship of credits to hours of direct contact teaching, reading volumes, and assessments. The Committee also organized learning sessions in order to help instructors learn about options for teaching remotely and compiled resources for creative pedagogy in the remote environment.
The Faculty also created the position of 1L Facilitator, which was held by Professor Alana Klein, in light of the special needs of first-year students who not only had to adapt to law school, a challenging task in the best of times, but had to do so in a remote environment without any in-person social interaction with their peers or professors. The 1L facilitator worked with the professors of first year courses to provide 1L students a strong pedagogical and social experience while they remained off-campus.
Four faculty members also received research grants related to COVID-19 from McGill University. Professor Fabien Gélinas, Ad. E., and Professor Adelle Blackett, Ad. E., have each been awarded a COVID-19 Rapid Response Grant, while Professors Lara Khoury, Ad. E., and Alana Klein have been awarded a McGill MI-4 Grant.
As of 2020, graduating McGill Law students receive a diploma bearing the JD designation, rather than the traditional LLB, along with their BCL diploma.
McGill Law Adopts JD Designation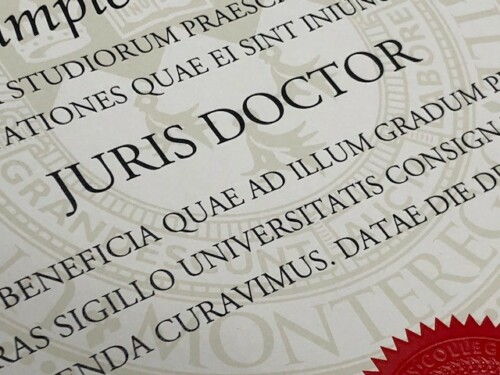 Graduates of a common law program at a Canadian university historically earned an LLB. This was the case at McGill as far back as the 1920s, when the Faculty first offered common law instruction, and continued after the Faculty adopted the National Program in 1968 and the current transsystemic program in 1999.
However, beginning in 2001, law faculties across Canada transitioned towards granting JDs. For several years, McGill found itself the sole remaining law faculty in Canada offering an LLB for its common law degree. Discussion about taking up the JD designation recurred at McGill for over a decade. Two referenda held by the Law Student Association indicated that nearly 70% of the student population supported the change.
In response to this changing landscape, Faculty Council passed motions in April 2019 to confer a BCL and a JD to graduates of the Faculty's integrated program, and to allow a graduate holding an LLB to request a substitute JD diploma. Quebec's Ministry of Higher Education approved the adoption of the JD designation as of Winter 2020, before authorizing retroactive requests in summer 2020.