McGill's Bicentennial milestone is an important occasion to highlight the importance of collaboration and innovation in sustainability, locally and beyond. In September, McGill University will be hosting the Sustainable Futures Festival, a week-long series of events that invite the McGill community, as well as partners and guests, to envision a collective future. A major component of the Sustainable Futures Festival is the Career Fair, taking place on Wednesday, September 14, 2022.  
How is your organization championing sustainability?
It's no secret that younger generations of job seekers are looking for more than competitive pay and benefits. They want a career with a purpose, at a company that aligns with their values. For many candidates, sustainability and climate action are top of mind.
Connect with top McGill talent
McGill's Sustainable Futures Festival Career Fair is your opportunity to connect with hundreds of bright, driven students looking to take the next step in their career. Demonstrate how your company shares their vision and is taking steps to create a more sustainable future.
Career Fair booths at a competitive price
Our Exploration Talks package offers a traditional recruitment fair booth. Here you can share general information about your company, promote jobs and internships you are actively recruiting for, and highlight future opportunities.
Cost: $600 + tax
Speak with candidates in small groups
Our Real Talks package offers a standard booth, plus the opportunity to speak with top McGill students in small groups of four or less. Students register in advance to speak with a representative from your company and have specific questions answered. These 15-minute discussions run from 9:00 A.M. to 11:30 A.M., and from 1:30 P.M. to 4:00 P.M.
Cost: $800 + tax
Reach talent year-round
Both packages include access to reach students beyond the Fair. You can:
Post job listings and access CVs on McGill's "myFuture" portal
Gain access to the list of student registrants following the Career Fair
Be contacted with other opportunities through our career and internship centres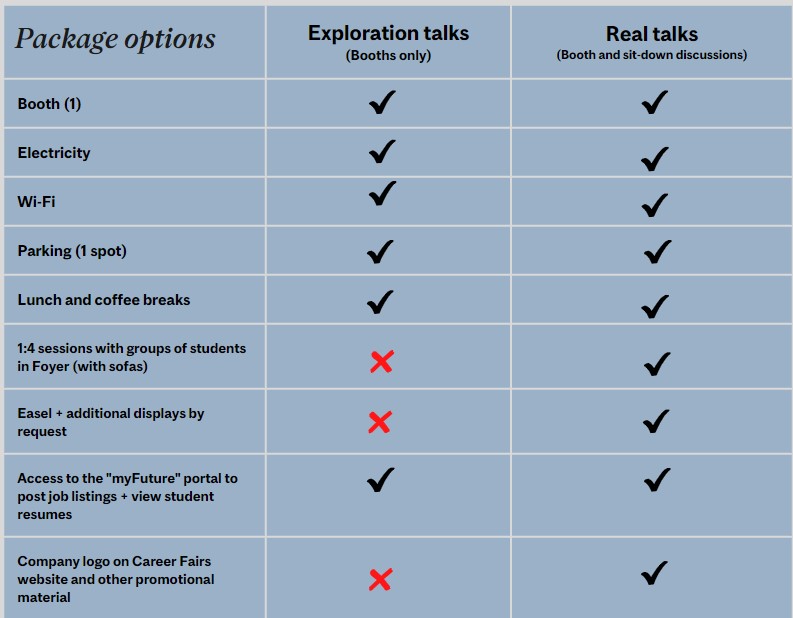 Complete the Registration Webform to sign up for the Sustainable Futures Festival Career Fair. Once submitted, the Bicentennial Planning Office will follow up with an email to finalize your package reservation and process payment.
Fees help to cover operating costs for this not-for-profit event with the simple goal of connecting McGill students with sustainability-minded organizations.
Join us!
Date: September 14, 2022
Time: 9:00 a.m. – 4:00 p.m.
Location: Centre Mont-Royal
Terms & Conditions
Minimum one (1) representative must always be present at the booth to meet students.  
Promotion of products and/or services for any purpose other than the recruitment needs of the participating organization is not permitted. 
Failure to complete the required Registration Webform and Registration Fees Payment by Wednesday, September 7th, 2022, at 11:59 p.m., will render the reservation null and void. 
Cancellation policy: 50% refund until Wednesday, September 7th, 2022, at 11:59 p.m. No refunds thereafter.
In case of no-show: No refunds will be issued for unused booths.
In case of event cancellation: Should the event be cancelled by the members of the Committee, the amount paid by the Organization for the registration will be reimbursed in full using the same method of payment.
---
The Sustainable Futures Festival is one of the final opportunities to take part in McGill's Bicentennial celebrations.
You won't want to miss it. See the Festival's program