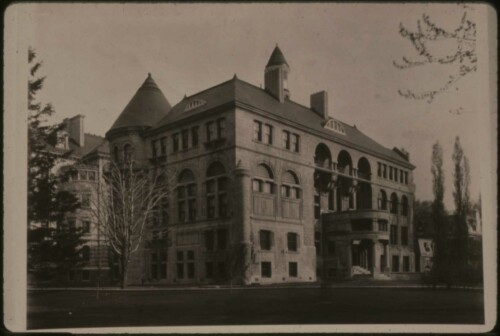 In 1893, Sir Andrew Taylor, along with his partners Morley Hogle and Huntley Davis, constructed the Macdonald Physics Building, now known as the Macdonald-Stewart Library Building. 
Knowing the nature of physics experiments and the current needs of the field, Taylor built the entire edifice using only wood, masonry, copper, bronze and brass for the nails and fixtures. No iron or steel was used anywhere in the building – even in the radiators – to keep magnetic interference at a minimum. The interior is made of heavy brick and constructed in large arches, many of which have since been filled in. 
This Richardsonian Romanesque structure has an irregular shape, with a large tower dominating the northwest corner and a symmetrical south facade. It is subtly ornamented with carvings and mottoes placed around the exterior and interior. The portico of what was once the main entrance has two columns stating "Power" and "Knowledge," two necessities for accomplishing work within the walls. The entrance hall fireplace has a mantelpiece declaring the need to "Prove all things". 
 In 1930, a meteorology station was added to the top of the building, and in 1941 a fourth floor was added. In 1982, Taylor's building no longer met the needs of the modern Physics department, so it was transformed into the Macdonald-Stewart Library Building of Physical Sciences and Engineering. Its sturdy structure has been well adapted to house many thousands of volumes and remains regularly filled with physicists doing research.