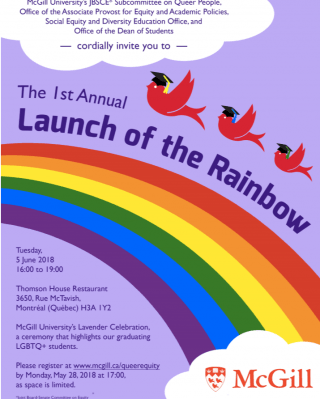 The first Launch of the Rainbow, McGill's annual Lavender Celebration for graduating 2SLGBTQIA+ students, was held on June 5, 2018.
It marked the first-ever Lavender Graduation Celebration – a special event that honours 2SLGBTQIA+ students – outside of the United States.
Launch of the Rainbow, a grass-roots-initiated celebration, honours the achievements of McGill's 2SLGBTQIA+ graduates and their allies and families, raises awareness of 2SLGBTQIA+ issues on campus and in the broader community, and reinforces the idea of community at McGill before graduation.
Read more about the celebration here.